(Today through September 1)
1. UPDATED: Picnic 2016: September 18. Planning to Attend List and Details.
2. NEW article: An Eye-Catching Tribute to Dr. James C. Windsor.
3. NEW article: Driving the Two Riverside Hospital Buses in 1968 - 69.
4. Bill Crute's Second Novel a Fast-Paced Trilogy.
5

.

What's in a Name? Anglo-Saxon Place Names in Tidewater.
6. NEW Feedback.
7. NEW humor: Little Son of a Bitch.
8. NEW cartoons: Gary Larson's FAR SIDE Cartoons in Color.
Learning makes a man fit company for himself.
English clergyman & historian
What kind of car does Mickey Mouse's wife drive?
---
Answer shown at the bottom of this page
PICNIC 2016: Sept. 18
PLANNING TO ATTEND LIST and DETAILS
(as of August 19)
TIME: 1:00 - 5:00 p.m. PLACE: Shelter 20, Newport News Park.
DEADLINE for signing up for the Picnic: Sept. 11.
SIGN UP by sending your NAME and name(s) of GUEST(S) you'll bring to:
cncmemories61_71@yahoo.com
---
FIRST DECADERS Plus GUESTS
 1. Gail Pearce
 2. Charlie Snead .....................................wife, Thommy
 3. Jo Sinclair
 4. Tucker Carwile ...................................wife, Becky
 5. Sonny Short
 6. Cissy Wilkinson ................................ our mascot, Annie
 7. Lewis Phillips 
 8. Linda Phillips
 9. Ellen Wirt ............................................husband, Johnny
10. Dave Spriggs
11. Roman Schenkkan ...........................wife, Melinda
12. Cecelia Short
13. Patty Andrews Mays ........................husband, Fred
14. Ron Lowder ......................................wife, Maureen

 
15. Wade Williams

  

.................................grandchild, 

Savannah
16. Ray Pepe

    

........................................wife, Ruth
17. Mike Beard

  
18. Dorothy Worsham Beard
19. Bill Crute

  

..........................................wife, Barbara 
20. Phil Saville

 

 


FACULTY & SPECIAL GUESTS
 

1. Jane Chambers    ............................... guest, Kay
 2. Mario Mazzarella ................................ wife, Becky
 3. Barry Wood ........................................ wife, Ann
 4.

 

Baxter Vendrick

  

(Director, CNU Alumni Relations)

 
 

5.

 

Katie Monteith

  

(CNU, '11)

    

(Alumni Relations Officer)
 

6.

 

Monica Hill

   

(CNU, '06)

  

 

 

(Alumni Relations Officer)
TOTAL TO DATE: 38 PEOPLE + 1 3-legged dog.
The COVERED SHELTER WILL SEAT UP TO 150.
MEATS, CONDIMENTS, & BEVERAGES PROVIDED
Charcoal-grilled Burgers (with/without cheese), Hot Dogs, & Boneless, Skinless Marinated Chicken Breasts provided. NO LIMIT on number(s) & kinds(s) per person. No later than Sept. 11, please email your ESTIMATE of your group's expected consumption of these.
A variety of cold canned sodas and bottled water provided. Alcohol is not allowed in the park.
SIDES REQUESTED
FIRST DECADERS (or FD couples)--but NOT guests or faculty--are asked to bring ONE SIDE DISH--such as Pasta or Potato Salad, Baked Beans, Cole Slaw, Chips & Dips, Veggies, or Dessert. No later than Sept. 11, please email your CHOICE of ONE such item to bring. Plan to take home your leftovers. Otherwise, we will have to throw them away, alas!
No later than Sept. 11, EMAIL your MEAT CHOICE(S) and SIDE CHOICE to cncmemories61_71@yahoo.com.
DONATIONS REQUESTED
$5 per person DONATION requested at the site for expenses such as SITE RENTAL, MEAT "FIXIN'S," BEVERAGES, PAPER & PLASTIC goods, etc. "Extra" cash (if any) will be applied toward the annual WEBSITE fee.
DIRECTIONS TO NEWPORT NEWS PARK AND PAVILION 20
FROM I-64 (EAST OR WEST)
Take EXIT 250 B to Fort Eustis Blvd (SR 105 East)

At the Jefferson Ave. intersection, go left (North) onto Jefferson.

Go approx. 1/4th mi. & enter NN Park on right on Constitution Way.

Follow Constitution Way as it curves to the right. At the end of the wooden fence and at the signpost, go right. (Restroom area is on the left before turning, if you need it.)

Follow the road until you see the 2 large pavilions on the right.

Park to the left side of the road. Our blue CNC SIGN will be on Pavilion 20.
AERIAL MAP
An Eye-Catching Tribute to Dr. James C. Windsor
by A. Jane Chambers
with details from Ruth Pepe and Joan Green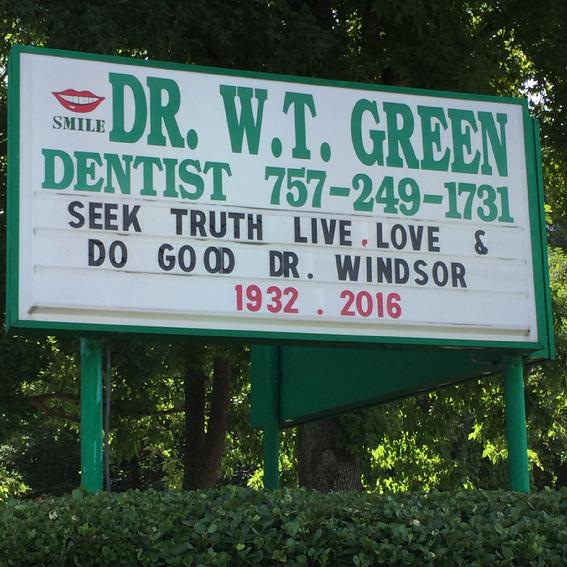 Pepe family photo.
Ruth Pepe, wife of CNC First Decader Ray Pepe (AA, 1965) recently sent me the above picture of this tribute to Dr. Jim Windsor that is located at 13128 Warwick Blvd., outside the dental office of Dr. William T. (Bill) Green. At my request, the Pepes later stopped by Dr. Green's office to learn more about the sign and his relationship with Dr. Windsor, but were unable to talk with him because he was with a patient. His receptionist told them Dr. Green was a friend of Dr. Windsor's.
I was able to connect by phone with Dr. Green's wife, Joan, who gave me more information. Joan Green was a wife, mother, and elementary school teacher when she met Jim Windsor in the 1970s at CNC, where she audited some of his psychology classes. A family friendship grew when she helped Jim, then CNC's president, with CNC's first major fund-raising drive, and also began sending some of her pupils to Joan Windsor, Jim's wife, for counseling. The two families were close from then on.
"Seek truth, live love, do good"-- the words on the sign, are from a book Dr. Windsor had been writing in his last years. These words were quoted twice by Barry Wood in his "In Memoriam" speech at the service for Jim. Dr. and Mrs. Green decided to have them put on this sign as a tribute to their long-time friend. The sign was put up in early April, after the memorial service for Dr. Windsor.
---
We welcome your FEEDBACK. Send it to
cncmemories61_71@yahoo.com
Published August 19, 2016
Driving the Two Riverside Hospital Buses
in 1968 - 69
Frances Lokey Newman's Memories
Edited by A. Jane Chambers
Photo of Riverside's "Green Monster" from CNC's 1966 TRIDENT, p. 76.
Frances (Fran) Lokey entered the Riverside School of Professional Nursing (RSPN) in 1968 after graduating from Warwick High School. Her father was overseas in the Army and her mother found it financially difficult to send her to RSPN. When Fran learned that she could earn money by chauffeuring her classmates, she happily accepted the job of driving Riverside's two buses back and forth to CNC and other places during her freshman year (1968 - 69) and the following summer. Her salary paid for her CNC tuition for the required courses the student nurses took during their first year.
Strangely enough, Fran was not required to have either a chauffeur's license or bus-driving experience to drive the Riverside buses. "I knew how to drive a stick shift and that was all that was required other than a having a driver's license," she recalls. She doesn't remember having any lessons either. She just "learned in the job."
Photos of buses are courtesy of Frances Lokey Newman, who is not in either picture.
The buses were both used vehicles. Fran doesn't know the background of the smaller, white bus (above L), but was told that the larger one (above R), called "the Green Bomb," or "Green Monster," was "a hand me down from the navy." The white bus could carry only 15 passengers, so it was used less often than the green one, which could carry at least 40 people. It's the bus most CNC students saw on our campus. However, in the summer of 1969, the white bus was "used more often," Fran recalls, because "we lost a lot of our class" during the freshman year. The nursing program, with its heavy load of CNC courses that first year, was very demanding, so the dropout rate was high.
Driving the white bus was rather easy. It had an automatic transmission and wasn't very hard to park. Driving the "green monster" was much more challenging, however. "It had 5 gears and would slip out of gear easily, so it was a very tricky job to get into the correct gears without grinding them," Fran recalls. "It was also a challenge to park it." Also, like CNC's "Blue Goose," the old bus "never got warm in the winter and didn't have air conditioning."
Fran remembers that getting the old green bus ready for an early trip was somewhat eerie: "I would have to go early, in the dark, alone, down to the maintenance section of the hospital, located behind the main building, to warm up the bus before it would move, and then drive it around to the front of the nursing school for the others to climb on."

She remembers too waiting in the bus at CNC for all of the nursing students to come out after classes ended and board the bus. "After exams it was tricky," she recalls, " because we didn't all come out at the same time and I never knew if everyone had finished the exams. I left only one person behind--one time. She let me know about it when she got back to the dorm!"




Photo of Fran as a young nurse was sent by her.
| | |
| --- | --- |
| | Looking back at her Riverside chauffeuring experiences 47 years later, Fran observed: "It was certainly a challenge but a lot of fun driving the buses. It helped me get where I am today. I've just recently retired after 45 years of nursing and loved every minute of it." The photo to the left, provided by Fran, shows her at the Student Health Clinic at ODU on her last day of working, in May of 2016. |
---
FRANCES LOKEY NEWMAN completed her RN in 1971, her BSN at CNC in 1988 (also receiving the Florence Nightingale Award), and her MSN (in Family Nursing Practice) at ODU in 1996. She worked 25 years in the Emergency Dept. at Dixie Hospital (later Hampton General), the last 6 years as the manager. Then she worked for Bon Secours--Mary Immaculate (Newport News) in Family Practice until 2003. From 2003 - 2006, she was a consultant for Bon Secours--Harbor View (Suffolk) in development and implementation of Emergency Dept. Health Research of Hampton Roads. She retired from ODU's Student Health Dept. in May, 2016. She and her husband, Ken, reside in Suffolk. They have two daughters (both with university degrees) and one granddaughter.
We welcome your FEEDBACK. Send it to
cncmemories61_71@yahoo.com
Published August 19, 2016
Bill Crute's Second Novel,
The Green House Near Loveville,
Another Page-Turner
by A. Jane Chambers
William (Bill) Crute's second novel, The Green House Near Loveville (Page Publishing, 2015) continues the adventures and misadventures of Morgan Armstrong, the central character in Bill's first novel, Morgan Make$ Money, reviewed on this website in June of 2013 (see Website Archives, subtab Your News). A somewhat revised (and improved) version of that short novel is Part 1 of this 3-part novel.
I enjoyed again watching Morgan's gradual transformation from "a sleaze ball" con man, obsessed with making money from his various not-fully-legitimate businesses, to a rather decent human being who helps his fellow prisoners find self-worth and legally make money while he is wrongly jailed in Richmond, VA, for a murder he did not commit. By itself, the Morgan Make$ Money story is a good, fast-paced vacation afternoon read (88 pages) that well demonstrates the subtitle of the original Morgan book: A Funny Story and Primer for Building a Successful Career in Sales and Happiness in Life.
Part 2, The Green House, is the bulk of the book (126 pages). Here we follow the ups and downs of Morgan and his three young children after Morgan has been released from prison with a clean slate, since the actual murderer has confessed. Free but virtually penniless, Morgan struggles to find a legal way to support his three teenagers and his mother and pay his huge IRS bill. He also struggles with his feelings toward two very different women, Catherine, the warden of the prison he's just left, and Christy, a sexy young mountaineer recently divorced. The setting is Virginia's mountains, near Charlottesville. As in Part 1, the characters in Part 2 are basically believable and the plot moves along well, with many dramatic episodes, some of them also comic. Love, in its various forms, is a central theme in this part of the book.
In Part 3, called The Collapse, Crute shifts from realism to fantasy. Beginning with the USA, all governments (from national to local) "stand down" as a group of "Robotmakers" based in Newfoundland attempt to initiate a Utopian world. Their motto (and guide for humanity) is "Do no harm" and they deal with "Miscreants" (criminals) by curing their chemical imbalances. Their work is done by an army of unarmed Robots who look and talk exactly like humans although they have aluminum-colored skin. Part 3 is the book's shortest section (58 pages) and, for me, was not as enjoyable as the other parts.
The Green House Near Loveville can be found on the Barnes & Noble website and on Amazon.com under the title or under the name William Crute. It is available in paperback for $16.95 and on Kindle for $9.99.
---
William Crute edited and named CNC's first literary magazine, The Undertow (1965-66), and after a three-year hiatus in the Army, returned to CNC in 1969. He earned his B.A. in English in 1971 and his M.A. in Special Education at Hampton University. His passions since childhood have been writing and painting. A Peninsula resident, Bill has been an English teacher and art gallery owner as well as a professional artist. He and his wife, Barbara Trippe-Crute, live in Poquoson. The photo shows them in Nags Head, NC.

---



We welcome your FEEDBACK. Send it to
cncmemories61_71@yahoo.com
What's in a Name?
Anglo-Saxon Place
Names in Tidewater
No doubt you know that virtually all of the place names in this area of Virginia are either British or Native American in their origins. My purpose here is to tell you a bit more about a few of these names than you might already know. I'll limit this adventure into etymology to just a handful of our place names that are about a thousand years old, going back to the Anglo-Saxon era. This long period in English history (ca. 450—1066) was the time between when the Romans left the island and the Normans invaded it.
During those centuries, three Germanic tribes (Scandinavian and German) from the northeast of Europe—the Angles, the Saxons, and the Jutes—over a long period invaded the island from the North Sea and settled it. They killed or drove out most of the natives, the Celts (except in upper Scotland, Wales and Cornwall), bred with many Celts, and created independent kingdoms. The three tribes shared a common history, culture, and language (with variations in dialects), which we call Old English, or Anglo-Saxon.

For over 300 years (757-1066), there was an informal confederation

of seven Anglo-Saxon kingdoms in the island that they came to call

Engla land

(land of the Angles), then

England

. These kingdoms were (see Map 1) Wessex, Sussex, Kent, Mercia, Essex, East Anglia, and Northumbria.




Map 1. From Portraits of British Monarchs 1, by Michael A. Stecker.
Map 2: East Anglia (settled by Angles). From Wikipedia.

East Anglia

(earlier, East Angles) was settled by the Angles. By the early Middle Ages (see Map 2) this kingdom consisted of two parts: the

North Folk

(people of the north) and the

South

(or

Suth

)

Folk

(people of the south). In time, these became the names

Norfolk

and

Suffolk

—used here, in the New World, as they were in England

, to indicate the location of each settlement.

The names Wessex,

Sussex

, and Essex have nothing to do with sex. The earlier forms of these names were

Wesseaxen

,

Suthseaxen

, and

Eastseaxen

—Seaxen meaning

Saxon

. These were three Saxon kingdoms located in the west, south, and east below Mercia and East Anglia (see Map 1). In the lowest point of Mercia (gray on Map 1), the area between Wessex and Essex was known around 700 as

Middelseaxen

(Middlesex). If you used to wonder about that name (I know I did), now that mystery is solved!

On Virginia's Middle Peninsula, we have an

Essex

County and a

Middlesex

County, and on the Southside, south of Surry County, we have a

Sussex

County.

The tribe called Jutes settled essentially only the small area called

Kent

(See Map 1). No doubt New Kent

County owes it name to this tiny kingdom from

England's "Dark Ages"—the Anglo-Saxon period.



---
If you are interested in etymology, particularly Tidewater area place names, let us know. There might be more This-N-That articles on this topic.
Published November 8, 2013
Re-published August 5, 2016
Re: What's in a Name?
Anglo-Saxon Place
Names in Tidewater
FROM Patty Lottinville Kipps (CNC AA, 1963):
I can remember as a child talking with my friends about all those "sex" names and wondering to what they may have referred! I do enjoy etymology articles. Always interested in word/place name sources. Would enjoy other similar pieces.
FROM Sarah Kleinman:
That was a really cool read!
FROM Janie Wolf (widow of CNC Prof. Wm. D. Wolf):
This article was most interesting and entertaining. Bill loved etymology. He would have liked this too!
FROM Barbara Rhyne Jacobs:
This history is fascinating. I too have an interest in ancient place names. Now I understand why Massac
husetts those names for their counties. I would definitely be interested in more etymology history. So, keep that research going about language. I am probably one of your best readers!
Little Son of a Bitch
by A. Non
Little Jimmy was doing his math homework. He said to himself, "Two plus five, that son of a bitch is seven. Three plus six, that son of a bitch is nine."

His mother heard what he was saying and gasped, " Jimmy! What are you doing?"



The little boy answered, "I'm doing my math homework."
"And this is how your teacher taught you to do it?" the mother asked.
"Yes," he replied, nodding his head. "She told us to do it just like this."
Although infuriated, the mother said nothing more to her son that afternoon, but she called Johnny's teacher the next day and asked, "What kind of math are you teaching my son?"
The teacher replied, "Right now, I'm teaching the children addition."
The mother asked, "Are you teaching them to say 'Two plus two, that son of a bitch is four?' "
After the teacher stopped laughing, she answered, "What I taught them to say was 'Two plus two, the sum of which is four!' "

---
We welcome your FEEDBACK. Send it to
cncmemories61_71@yahoo.com
Published August 19, 2016
Gary Larson's
FAR

SIDE

Cartoons
in Color
Published August 19, 2016
Your DECADER committee ALWAYS enjoys feedback on items that appear on this website. The feedback can be positive or negative...doesn't matter. It is just super for us to know that you are actually visiting YOUR website and have something to share.
Please don't hesitate to send us an email with a comment...we LOVE to hear from you!
(There is an underscore between 61 & 71 in the web address above)
Donations
to our Treasury are gratefully accepted.
Make out checks to
CNC First Decaders
. Mail them to
Sonny Short, FD Treasurer,
12738 Daybreak Circle,
Newport News
, VA 23602.
This site is NOT affiliated with Christopher Newport University