(Today through September 5th

)



1. NEW article: Seldom Known Facts about Our Pledge of Allegiance, Part 2 (To see Part 1, click the left margin tab Archive, then sub tab This-N-That).
2. UPDATED article: September 22nd Luncheon Details: Menu, Map, Alumni House Tour, and updated Planning to Attend List.
3. Article from 2013: Red's Pier.
4. Article from 2016: The S&H Green Stamps Boat: Solving an Oceanography Course Problem, by Dr. Harold N. Cones.
5. NEW humor: Impossibilities.
6. NEW cartoons: Mosquitoes.
Make a start and sustain the effort! Inspiration will follow with excellence becoming the eventual result. Take the time to listen to the trees. That is where the music is!
(Born Feburary 8, 1932)

What do you do if an elephant swallows you?
---
Answer shown at the bottom of this page
Seldom Known Facts about
Our Pledge of Allegiance:
Part 2
by A. Jane Chambers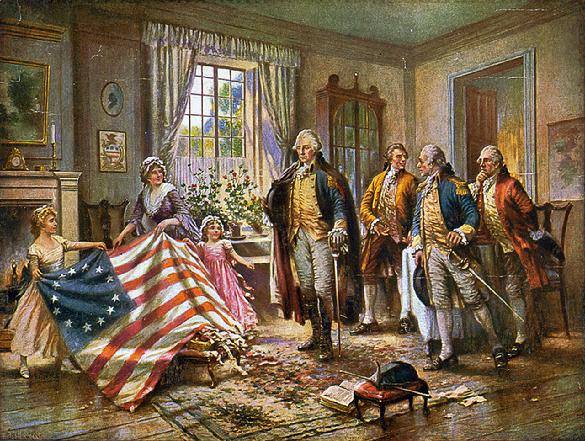 This 1917 painting by American artist Edward Percy Moran depicts Betsy Ross presenting the 1776 American flag to General George Washington (in boots).
There was no pledge of allegiance to our flag or nation in any form until well over a century after Betsy Ross made the first flag in 1776. Then, as the 19th century neared its end, two pledges of allegiance for school children to recite were written within five years. In 1887, Civil War veteran Captain George T. Balch, auditor of the New York City Board of Education, wrote the first one:
"We give our heads and hearts to God and our country;
one country, one language, one flag!"
In 1892, in Boston, Baptist minister and Christian Socialist Francis J. Bellamy, writing for a popular children's magazine, penned the second one, meant primarily to be used in a nation-wide Columbus Day celebration:
" I pledge allegiance to my Flag and the Republic for which it stands,
one nation, indivisible, with liberty and justice for all."
Historical and Current Events Affecting the Pledges
During our nation's Civil War (1861- 64) George Balch (1828- 1894) was in his thirties, whereas Francis Bellamy (1855- 1931) was a very young schoolboy. Despite their generational age gap, I expect this devastating war, often pitting brothers against brothers, and bringing our young nation to the edge of total destruction as a nation, was an event very real in their memories when they were writing their respective pledges. Both men were also highly educated, with degrees from West Point (Balch) and the
University of Rochester (Bellamy) and therefore undoubtedly also knew well their nation's early history.
Above is the Great Seal of our nation, used since 1782 to authenticate documents of our federal government. The theme of the Great Seal is stated verbally in the Latin motto E PLURIBUS UNUM ("from many, one," or "out of many, one") and echoed visually in the 13 stripes, 13 stars, and 13 arrows--all reminders of the Revolutionary War, our first flag, and the 13 colonies ("the many") that united to form "the one" nation named appropriately the United States of America.
The Civil War had shattered that unity. In the latter part of the 19th century, it was being restored--but slowly. Balch's pledge called America "one country"; Bellamy's called it "one nation, indivisible"--stressing more fully the unity of it. Though it had been divided, as predicted in Lincoln's "House divided" speech, Bellamy implied that it was again and must continue to be a united nation.
In addition to America's early and recent past history, a major current event motivated the authors of these two pledges, particularly Balch. When Balch wrote his pledge, 1887, there were 38 states in our nation; five years later, when Bellamy wrote his, there were 44 states. The "many" making the "one" was rapidly growing and changing--not only the number of states, but the makeup of the nation's citizenry, adding an additional meaning to the motto E Pluribus Unum. In Colonial times, immigrants to "the New World" were primarily English-speaking Protestants from the United Kingdom. In the latter 19th century, immigrants from "the Old World" were largely from a variety of European nations and were predominantly Roman Catholic. America was quickly becoming "the Melting Pot."
The photo above, taken in New York City in 1890, shows a classroom of Italian children reciting the Balch pledge. Because Balch worked for the city's Board of Education, his pledge was immediately used in all public schools in the city--especially those with immigrant children enrolled. The purpose was to Americanize the children, to assure that their loyalty was to our nation, not to their native lands.
By the opening years of the 20th century the two different pledges had been adopted by various adult organizations as well as school systems, but the Balch pledge steadily lost ground to the more popular Bellamy pledge. For example, the Daughters of the American Revolution (DAR) adopted the Balch pledge in 1906, but switched to the Bellamy pledge in 1915.
History of the Bellamy Pledge from 1923 to 1943
| | |
| --- | --- |
| By the early 1920s the Bellamy pledge was essentially the pledge, although not yet officially adopted by Congress. The chart to the right summarizes changes to the pledge, only one of which was made by Bellamy, who died in 1931. He added only one word ("to"), for balanced syntax. In June of 1923, the first National Flag Conference was held in Washington, D.C. to draw up rules for civilian flag use. During that year, and the following one, the words "the [Flag] of the United States" and then "of America" were added, primarily to assure the loyalty of immigrants. | |
Two decades later, during World War 2, four major events occurred in the pledge's history, all in the early 1940s. On June 22, 1942 Bellamy's pledge was formally adopted by Congress as the flag pledge; on December 22, 1942, the Bellamy salute (see Part 1 of this article) was removed from the pledge and replaced by the hand over heart gesture. In 1945 the official name The Pledge of Allegiance was adopted by Congress.
In 1943, the U.S. Supreme Court ruled that the Free Speech Clause of the First Amendment protects students from being forced to salute the American flag or say the Pledge of Allegiance in public schools. Some states have never required that the pledge be recited in schools--including Hawaii, Iowa, Vermont & Wyoming. In addition, as of 2007, there are no pledge laws or statutes listed for Oregon, Nebraska, the District of Columbia, the Virgin Islands, or Puerto Rico.
1954: The Addition of "Under God"
Baptist minister Francis Bellamy, a strong supporter of our Founders' belief in Separation of Church and State, did not include God in his patriotic pledge. The first person to propose changing that was Louis A. Bowman, chaplain of the Illinois Society of Sons of the American Revolution, who argued in 1948 that President Lincoln used "under God" in his Gettysburg Address; therefore it should be added to the Pledge. The DAR gave him an award. In 1952, the Catholic fraternal service organization the Knights of Columbus officially added "under God" after "one nation" to its recitation of the Pledge and urged Congress to make this change official. Several Congressional attempts to do so failed (Wikipedia).
| | |
| --- | --- |
| | On February 7, 1954, President Eisenhower, recently baptized a Presbyterian, honored President Abraham Lincoln's birthday by attending Lincoln's church, the New York Avenue Presbyterian Church. Sitting in Lincoln's pew, Eisenhower was deeply moved by the sermon delivered by pastor George MacPherson Docherty, which was based on the Gettysburg Address. Docherty argued that "under God" should be included in the Pledge, because that was what defined our nation and set us apart. The two men (photo left) had a conversation after the service, and the next day Representative Charles Oakman (R-Mich.) introduced such a Pledge bill in Congress and it passed (Wikipedia). |
On Flag Day, June 14, 1954, Eisenhower signed the bill and the controversial phrase "under God" was added to the Pledge of Allegiance. The Cold War provided the impetus for addition of this phrase. At that time in our nation's history, many of our citizens wanted to emphasize the difference between a "godly" nation (the U.S.A.) and an "ungodly" one (the USSR--i.e., Russia). Even before the addition of "under God," federal government requirement or promotion of the Pledge of Allegiance resulted in criticism and legal challenges on various grounds, only one of which has been mentioned here. If interested in this topic, go to your computer!
________________________________________________
Note: Part 1 of this essay, which focused on the beginnings of both the Balch and the Bellamy pledges and their individual flag salutes, is now located in our Website Archives (left margin tab), in the sub tab This-N-That.
SOURCES: Personal knowledge, general knowledge, internet photographs, and Wikipedia.
__________________________________________________________
We welcome your FEEDBACK. Send to
cncmemories61_71@yahoo.com
or cnc6171@cox.net.
Published August 23, 2019
1st DECADER LUNCHEON 2019

September 22nd Luncheon Details:
Menu, Map, Alumni House Tour
and Planning to Attend List
CNU will provide the following:
MEAL at 50% cost-- $10 per person. The actual cost will be about $20 per person, but the Alumni Relations Office will cover the difference thanks to Director Baxter Vendrick!
BUFFET FOOD:
Hamburger Sliders

 [plain and cheese on brioche buns] 
Tomato mayo bacon sandwiches 
Deviled eggs  
Baked beans 
Macaroni salad 
Potato salad 
Watermelon Mojito salad
 [Basic ingredients are watermelon, cucumber, mint, 
and lime zest or juice]
Watergate salad
 [Basic ingredients are pistachio pudding, canned pineapple,
 whipped topping & marshmallows]
Homemade banana pudding 
Cookie bites


BEVERAGES:
LEMONADE, ICED TEA, VARIOUS SODAS (regular & diet), and WATER.
1. Use of the Board Room in David Student Union (DSU).
2. Parking in LOT M (next to the Alumni House) and golf cart shuttles to and from the parking lot and DSU.
3. Tours of Klich Alumni House during the noon hour (about 20

minutes per tour) before the lunch (and possibly after it) for all who want to visit it.
4. Services of the university's food staff and Alumni Office staff.
1. DRESS: Business Casual (men: long pants & collared shirts; women: pants outfits or dresses).
2. REGISTRATION DEADLINE-- Friday, SEPT. 6th. We have to give Catering Service the HEADCOUNT by Monday morning, Sept. 16th.

3. The PLANNING TO ATTEND LIST posted below will be updated August 23rd and again September 6th.
FIRST DECADERS...................... and GUESTS
1. Calvin Hanrahan
2. Sonny Short
3. Michael Smith
4. David Spriggs
5. Maryellen Wilkinson
6. Cecelia Short
7. Lois Wright
8. Wayne Rammell ............................. Wanda Rammell
9. Charlie Snead ................................ Thommy Snead
10. Patty Mays ..................................... Fred Mays
11. Charles

Cook
12. Donna Carter........................... Julian Padowicz
13. Ellen Babb Melvin
14. Wade Williams
15. Ron Lowder
16. Donna Skipper Pultz............... Richard Pultz
17. Gerald (Jerry) DesLauriers
18. Wayne Barry
19. Candy Hixon Whitley..................David Whitley
20. Joe Hutchko
FACULTY & STAFF......................and GUESTS
1. Jane Chambers ............................. Kay Rinfrette
2. Baxter Vendrick *
3. Katie Monteith

 *
* CNU Alumni Relations staff
DIRECTIONS TO CNU
From the Warwick Blvd/J. C. Morris intersection, follow Ave. of the Arts to the roundabout (circle). Proceed 3/4 of the way around it to Shoe Lane. Follow Shoe briefly to the first right turn, which is the entrance to the parking lot and the Alumni House. The Alumni House faces parking Lot M (your parking destination). From there, Golf Carts will transport you to David Student Union if you don't want to walk.
Red's Pier: A Photo Update
by A. Jane Chambers
To view this article, click on the link below:
The S&H Green Stamps Boat:
Solving an Oceanography Course Problem
Dr. Harold N. Cones's Account
Excerpts from pages 221 - 223 *
To view this article, please click on the link below and scroll down until you see the article:
IMPOSSIBILITIES
by A. Non
1. You can't count your hair.
2. You can't wash your eyes with soap. (Don't even try!)
3. You can't breathe through your nose when your tongue is out. (Put your tongue back in your mouth, silly.)
Ten (10) Things I know about you.
1. You are reading this.
2. You are human.
3. You can't say the letter ''P'' without separating your lips.
4. You just attempted to do it.
6. You are laughing at yourself.
7. You have a smile on your face and you skipped No. 5.
8. You just checked to see if there is a No. 5.
9. You laugh at this because you are a fun loving person and everyone does it too.
10. You are probably going to send this to see who else falls for it too.
Sent by Danny Peters (BS, 1971)
Published August 23, 2019
ANSWER: Run around in circles 'til you're all pooped out.

Dr. Jane Chambers, Editor and Head Writer

Ron Lowder Sr., Webmaster
Donations
to our Treasury are gratefully accepted.
Make out checks to
CNC First Decaders
. Mail them to
Sonny Short, FD Treasurer,
12738 Daybreak Circle,
Newport News
, VA 23602.
Your DECADER committee ALWAYS enjoys feedback on items that appear on this website. The feedback can be positive or negative...doesn't matter. It is just super for us to know that you are actually visiting YOUR website and have something to share.
Please don't hesitate to send us an email with a comment...we LOVE to hear from you!
(There is an underscore between 61 & 71 in the web address above)
This site is NOT affiliated with Christopher Newport University