If you know how many arms an octopus has, you can guess what the word October means. Octo is Latin for "eight" and the suffix -ber is like the English suffix "-th." Mensis October means "the eighth month"—a misnomer, however, since October has been the tenth month for over 2000 years.

Under the direction of Julius Caesar, in 46 BC astronomers replaced the ancient lunar Roman calendar of 10 months with the solar calendar of 12 months, based on Earth's revolutions around the sun. Caesar's Julian calendar was the major western world calendar for 15 centuries. It was refined and replaced in 1582 by the 12-month Gregorian calendar, under the direction of Pope Gregory XII.

Will anyone ever correct the names of the last four months on our 12--month calendar? After over 2000 years, probably not.
(Today through October 31st

)



1. NEW article: CNC's First Graduate Responds to the Dr. Lois Wright Cup.
2. NEW

article:

Why Witches Eat Children and Other Witchy Beliefs.
3. 2019 First Decaders Luncheon at CNU: Part 1

(9 photos with people identified).
4. NEW article: 2019 First Decaders Luncheon at CNU: Part 2 (9 more

photos with people identified).
5. Racism and CNC's Shoe Lane Site: The History behind the Walker's Green Marker.
6. NEW cartoons: Monster Month.
Never give in except to convictions of honor and good sense.

Sir Winston Leonard Spencer-Churchill
Prime Minister of the United Kingdom from 1940 - 1945
(November 30, 1874 - January 24, 1965)

What do you get if you cross a fridge and a stereo?

---
Answer shown at the bottom of this page
CNC's First Graduate Responds to
the Dr. Lois Wright Cup
by A. Jane Chambers
with a response by the honoree, Dr. Wright
If you attend the Homecoming game at CNU Saturday afternoon, October 26, don't miss the halftime event announcing the winner of the Dr. Lois Wright Cup. Dr. Wright will be on the field, along with CNU President Paul Trible and a representative from the winning class.
Above is an Alumni Relations Office picture of the cup, which is currently on display in Klich Alumni House. Engraved on the cup is "The Lois Wright Cup." Engraved below it are these words: "Dr. Lois Wright, '62" and below that "Christopher Newport's First Graduate." The smaller print reads "This cup is presented each year to the young alumni class with the highest annual giving percentage." The award is not for the amount of money the class gives, but for the percentage of class members who donated to the class's gift.
BACKGROUND
Thirteen students entered CNC its opening year (1961-62) as sophomores, bringing with them a variety of credit hours. At the end of that first year, only one sophomore, Lois Wright, had all the required credit hours needed to qualify for the A.A. degree. Thus she was the first and the only recipient of the degree of Associate in Arts on June 8, 1962. To her surprise, she was literally the Class of 1962. She received her degree from then Director H.W. (Scottie) Cunningham in a private ceremony attended only by her parents.
Afterwards, Lois earned an A.B. in English at William and Mary, an M.S. in Social Work at VCU, and an Ed.D in Counseling at W&M. After a long and rewarding career at the University of South Carolina--Columbia, she retired in 2002 with the rarely bestowed title Distinguished Professor Emerita, having served USC as Professor, Assistant Dean, and then Director of The Center for Child and Family Studies.
RESPONSE TO HONORS
Wright Cup display in Klich Alumni House, including recent photo of Dr. Wright (Alumni Relations photo).
I asked Lois to share with our readers her response to this latest honor, as well as her earlier CNU honors. "I am delighted and humbled to have the Dr. Lois Wright Cup named after me," she began. She learned about the cup during a January 28th lunch with Baxter Vendrick, Director of Alumni Relations, who had emailed earlier that he wanted to meet with her about an idea involving her and her name. At the lunch he told her about the idea to create a Dr. Lois Wright Cup as a way to recognize and encourage young alumni class giving.
"Of course, I enthusiastically supported the idea!" Lois wrote, adding "The Cup is only the most recent in a succession of unexpected and unearned honors I have received from CNU. With each one, I have experienced awe and joy!" Her first honor was in 1986. "The occasion," she wrote, "was the 1986 commencement, honoring CNU's 25th anniversary; I was asked to make some remarks." Her second honor, 26 years later, was being "invited back to be awarded an honorary Doctor of Humanities degree during the Commencement ceremony on Saturday, May 12, 2012."
| | |
| --- | --- |
| "My involvement with CNU grew," she continued, "when emphasis on the University's early years was given a boost in the spring of 2011 through Dr. Jane Chambers's work to recognize the First Decaders with a first ever reunion. Related to this effort, CNU built a display cabinet (photo right) and placed it in Trible Library to exhibit various objects related to my graduation—including my diploma, a picture of then Director Scotty Cunningham awarding me the A.A. degree, and my class pin. The display now resides in the Klich Alumni House. This third honor was followed by interviews and requests for articles related to my CNU experiences." | |
| | |
| --- | --- |
| Lois at the 1969 Class Reunion Dinner, May 10, 2019 (Alumni Relations photo). | Lois feels honored also by attending the September gatherings and 50th reunions of the first decade classes. "Baxter and Jane have always given me special recognition," she wrote. "At these reunion dinners, my honor and responsibility has been to bless the food. This seemed easy enough—just a few words of thankfulness. However, finding the right words has been challenging. Each year I have struggled with what to say that was brief, inclusive, and meaningful and that reflected CNU's values. But the reward for doing this task has been continually revisiting and rethinking what CNU and our association with it means to us all." |
"And now this—not only having the Cup inscribed with my name but also being invited to help present it at the Homecoming game October 26th. I feel so blessed that CNU has repeatedly chosen to recognize and honor me for my small role in its history. I will never become blasé about these honors; I continue to be surprised, thrilled, and humbled. With each honor I used to ask if I deserved the recognition or how fate had brought it to me through no effort on my part. But now I just follow the advice of a wise friend: 'Don't analyze it. Just say thank you!' Thank you, Christopher Newport, for all you have done for me and for other alumni. May we return your gifts through our generosity and service."
________________________________________________________
An essay by Lois Wright about her sophomore year at CNC
is on pages 182-185 of Memories of Christopher Newport College:
The First Decade, 1961-1971, by A. Jane Chambers, Rita C. Hubbard,
and Lawrence Barron Wood Jr. (Hallmark Publishing, 2008).
______________________________________________________________
We welcome your FEEDBACK. Send to
cncmemories61_71@yahoo.com
or cnc6171@cox.net.
Published October 18, 2019
Why Witches Eat Children
and Other Witchy Beliefs
by A. Jane Chambers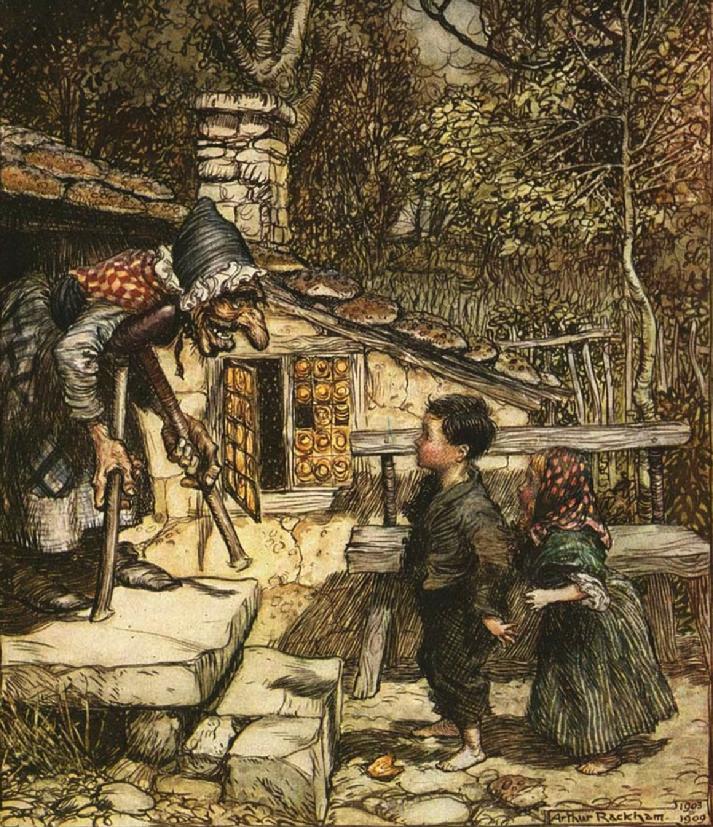 English book illustrator Arthur Rackham's 1909 depiction of Hansel and Gretel meeting the witch.
In the well-known German fairy tale Hansel and Gretel, published in 1812 in the Grimm brothers' collection of folk stories, the siblings Hansel and Gretel meet an elderly woman who lives in a forest in a house made from gingerbread and other edible sweets. After being warmly received and well fed, they discover she is a cannibalistic witch who plans to eat them. The children outwit her, push her into the fiery oven intended for them, and escape.
Witches Eating Children
Sometimes, while affectionately talking to and touching or holding a beloved infant, a mother or other friend or relative says to that baby, "I could just eat you up!" The adult doesn't mean that literally, of course, but why do we humans even say it? A strange compulsion to express love by biting the flesh of the beloved seems built into us, doesn't it? Fortunately, though, rarely do any of us eat our children, or someone else's.
Cannibalism among humans is a historical fact, however--still happening, though rarely. In earlier centuries, in some European countries, especially reflected in folklore, it was believed that witches were cannibals who ate infants and young children--sometimes as sacrifices to Satan, but sometimes as a means of renewing themselves physically. By devouring the young and healthy, such witches believed they could overcame disease, aging, and even death.
Evil Witches and Good Witches
Above are two Halloween greeting cards made in America in the early 1900s. They feature witches who are strikingly different: one ugly and old, the other beautiful and young—reflecting the ancient belief in both good and bad witches. The old one, obviously the evil one, is looking longingly at the children inside--no doubt wishing to capture one for dinner. She is accompanied by dark and nocturnal creatures, a black cat and a hovering bat, both traditional symbols of wickedness.

The good witch, on the other card, is accompanied by an owl, which can represent, depending on the context, either good or evil. Primarily, however, the owl has for ages symbolized wisdom. It was the favorite bird of Athena, the Greek goddess of wisdom. The owl is also a reminder that witches originally were prophets — seers like blind man Tiresias and the woman Cassandra in Greek mythology; astrologers like the wizard Merlin, in Arthurian legends; and people with magic powers who studied the heavens and could foresee the future. They could cast spells for good or ill, and were both revered and feared. The large smiling moon and shooting star, a traditional good luck sign, add to the positive tone of the Good Witch card.
WITCHES and WATER
In the card showing the evil witch, the children bobbing for apples are safe from her because of the tub of water. One very old belief about witches and other evil beings is that water can literally kill them. Remember how the Wicked Witch of the West died in the 1939 movie The Wizard of Oz? She melted away when Dorothy threw some water on her. (I played that witch role in high school and well remember the scene in which I "melted.") Oz also had a Good Witch, named Glinda, who helped Dorothy return home. The 1939 movie popularized the idea that wicked witches were green and dressed totally in black.
Another belief about witches and water, common from Medieval times into the 18th century, was that throwing or ducking someone accused of witchcraft into a body of water was a definite way of determining guilt or innocence, because water, used for baptism and spiritual purification, rejects evil beings. If guilty, the person floated; if innocent, the person sank (and usually drowned).

Such an actual test by water occurred in 1706 in what was later Virginia Beach. Grace White Sherwood (born ca. 1660), a widow of about 47, was bound hands to feet and thrown ("ducked") from a boat into the Lynnhaven River. Fortunately, she was able to stay afloat and was pulled back into the boat. She was jailed for eight years for witchcraft. It was the only time in Virginia that a trial by ducking occurred. The full account is in my essay What's in a Name? Witchduck Road and the "Witch of Pungo," located on this website in the tab Archives, subtab This-N-That. The marker below and a statue are now on the "Witch Duck" site.
Witches and "Devil Marks"
One way to know a woman was probably a witch was to examine her naked body for "Devil Marks"-- unusual moles, birthmarks and so forth. Before and again after the ducking of Grace Sherwood, a Jury of "Ansient and Knowing women" undressed and searched Grace "For all teats spotts and marks...not usuall on Others" and swore they found "two things like titts on her private parts of Black Coller." These were seen as "The Devil's marks," evidence of her being a witch.
WITCHES and BROOMS
Why do witches fly on brooms? I'll discuss this topic next October. Meanwhile, if you have a theory to share, send it to us (with your source).
Have a HAPPY AND SAFE Halloween!
--------------------------------------------------------------------------------------

SOURCE: Personal knowledge resulting from research I did while (1) creating and teaching a 400-level topics course at CNC called "The Gothic Tradition in English and American Literature," (2) while writing my doctoral dissertation (Coleridge's "Christabel" in Context) for my Ph.D. degree at UNC-Chapel Hill, and (3) while writing my website essays Ancient Beliefs and Traditions Reflected in Old Halloween Cards and What's in a Name? Witchduck Road and the "Witch of Pungo"--both located on this website in the tab Archives, subtab This-N-That.
__________________________________________________________
We welcome your FEEDBACK. Send to
cncmemories61_71@yahoo.com
or cnc6171@cox.net.
Published October 18, 2019
2019 First Decaders Luncheon at CNU:
Part 1
Text and Identifications by A. Jane Chambers
Photos by Katie Monteith and Ellen Babb Melvin
The second fall luncheon of Christopher Newport's First Decaders took place on September 22, 2019 in the Board Room at CNU, located on the second floor of David Student Union. At least 40 people attended and a good time was had by all. The above picture was taken in the area outside the Board Room, at the conclusion of the event, by CNU's Assistant Director of Alumni Relations, Katie Monteith (CNU '11). Some people had already left before the photo was taken. Perhaps future group photos should be taken before the food is served?
Both pictures above were taken by Katie Monteith, inside the Board Room. The left photo shows (L-R) Julian Padowicz, Wade Williams (behind him), Donna Lass Carter (married to Julian), Charles Cook (standing), and Lenore and Sam McIntyre. The right photo shows (L-R) Richard and Donna Skipper Pultz, and Candy Hixson Whitley and husband David Whitley.
These two pictures are courtesy of Ellen Babb Melvin (CNC '66, W&M '68). The first one shows (L-R) CNU's Director of Alumni Relations, Baxter Vendrick, Ellen Babb Melvin, and Assistant Director of Alumni Relations, Katie Monteith. The second photo is of (L-R) Wayne Rammell, Joe Hutchko, and Woody Compton.
Taken by Katie Monteith, the above picture shows (L-R): Ellen Wirt, Ray Pepe (standing), Ellen Babb Melvin, Charlie Snead, David Spriggs (standing behind him), Thommy Snead, and Mary Ellen Wilkinson.
On the left is one of several individual close-up photos taken by Ellen Babb Melvin. Pictured is the chairperson of the CNC First Decaders, David Spriggs, aka "Cap'n Dave," who retired from the U.S. Navy at that rank. On the right, also courtesy of Ellen, is a photo of (L-R) Ellen Babb Melvin, me (A. Jane Chambers, founder of the First Decaders), and Ellen Wirt.
The people in this last photo are (L-R)
Joe Hutchko
,
Wayne and Wanda Rammell
,
Sue and Woody Compton
, and sisters
Marsha Hunter Gray
and
Susan Hunter Engler
. Marsha and Susan, Special Guests at the event, are the daughters of recently deceased biology instructor
Georgia Hunter
, the first and only female on the original CNC faculty when the college opened (September 18, 1961). Their father,
Bob Hunter
, volunteer coach of flag football at CNC in the mid-sixties, was unable to attend our luncheon. Perhaps he can attend the 2020 September event.
______________________________________________________

Part 2 of this article, featuring more photographs, will be posted on October 18. Others who took pictures at this luncheon are invited to send them to cncmemories61_71@yahoo.com no later than October 11 (Friday). Identify all people in them please.
____________________________________________________________
We welcome your FEEDBACK. Send to
cncmemories61_71@yahoo.com
or cnc6171@cox.net.
Published October 4, 2019
2019 First Decaders Luncheon at CNU:
Part 2
Text and Identifications by A. Jane Chambers
Photos by Katie Monteith and Ellen Babb Melvin
Luncheon attendees are shown here listening to Baxter Vendrick, Director of Alumni Relations, as he announced not-yet-published coming projects at CNU that would be front page news about a week later in the Daily Press of September 28. These projects will include (1) a new four-story administration building on the site of the former Hidenwood Post Office, (2) demolition of the former Suntrust Bank building (now CNU North), (3) creation of a green space on that corner lot, which might eventually be used for additional construction, and (4) a new apartment building on the East Campus that will replace older student housing, to help meet the request of CNU seniors to live on campus all four years.
The photo above left of Baxter Vendrick is by Ellen Babb Melvin (class of 1966). The photo above right of Jane Chambers, founder of the CNC First Decaders, is by Katie Monteith.
Shown in this photo, also by Katie, are (L-R) Kay Rinfrette, Jane Chambers, Lois Wright (who earned the first CNC AA degree, in 1962), Fred Mays, his wife Patty Andrews Mays (class of '63) , and Jo Berry Sinclair ('63) People at the other five tables are shown in Part 1 of this article.
Shown left are Ellen Babb Melvin ('66) with Charlie Snead (AA, '66) and wife Thommy; shown right are Charlie and Thommy leaving CNU's David Student Union after the luncheon. The Sneads, like Ellen, are both also William and Mary alumni. They drive 900 miles round trip from and to their home in Hendersonville, NC for every September reunion of the CNC First Decaders. Newport News High School sweethearts, Charlie and Thommy have also been married 51 years. (Photos by Ellen)
Ellen made some good close-up individual pictures also. On the left above is Joe Hutchko, and on the right is Wade Williams. In 1965-66 Joe was a Circle K officer and on CNC's first track team and All-Star Flag Football team. After 4 years in the USAF (1 year in Vietnam), he returned to CNC and earned a BS in Management Information Science in 1974. Wade ("Iron Man") was also on that first track team. Married and a father, Wade worked full time while taking courses at CNC 1963 - 68, then completed his B.A. in English at Old Dominion in 1969. In this photo, he is sitting outside CNU's alumni house, waiting to drive Jane and Kay back to Isle of Wight.
This last photo, made in front of Klich Alumni House, is a "Thank You" to
Annie Clarke
(CNU, '21), the student who was our "cabbie" for this September reunion, driving attendees to and from Parking Lot M (in front of the alumni house) and David Student Union, location of the luncheon. At every First Decaders event at CNU, there are student drivers like Annie who, along with the Alumni Relations staff, serve us with smiles and dedication.
__________________________________________________________
We welcome your FEEDBACK. Send to
cncmemories61_71@yahoo.com
or cnc6171@cox.net.
Published October 18, 2019
Racism and CNC's Shoe Lane Site:
The History behind the Walker's Green Marker
by A. Jane Chambers
"To me, it's an open-and-shut case ... why the city
wanted [the Shoe Lane site] .... it was clearly an effort by
the City of Newport News to prohibit Walker from developing
a middle-class, suburban neighborhood for African-Americans."
--Phillip Hamilton to Daily Press reporter Matt Jones
The above is from "A Fervent Ally," by reporter Matt Jones, a lengthy and well-researched Daily Press article of September 1, 2019 which begins on the front page and continues on page 9, which it fills completely. The speaker interviewed, CNU history professor Phillip Hamilton, is the author of Serving the Old Dominion: A History of Christopher Newport University, 1958-2011. The topic is "The Shoe Lane Controversy, 1961-63" (pages 34-46), an historic event in which Newport News native William Walker Jr. (1911-2004), a well-educated African-American leader, played a major role.
At my request, Assistant Director of Alumni Relations Katie Monteith took the above close-up picture of the "Walker's Green" historical marker. It is located close to the street on the 72 Shoe Lane site now occupied by CNU's Klich Alumni House. The grassy area between the street and the Alumni House has been named "Walker's Green" to honor the memory of William Walker Jr. The marker was unveiled and dedicated on the afternoon of September 20, 2019. It accurately describes the major facts of Mr. Walker's life and achievements.
As his wife looked on, Ambassador Howard Walker (L) and CNU President Paul Trible (R) unveiled the marker. Watching at right was CNU history professor Brian Puaca, who led the movement to honor William Walker Jr. CNU photo,
In his September 21 Daily Press story "CNU unveils marker for former board member who fought purchase of campus," Matt Jones wrote that the ceremony was attended by members of CNU's Board of Visitors, the Newport News City Council and School Board, and others. Speakers included Sheriff Gabe Morgan (on CNU's Board), President Paul Trible, and the son of William Walker Jr.--Howard Walker, a former United States Ambassador, who said his father "reconciled with the university" because of "a broadening of his interests and a realization of the value that the college posed for his community"(Jones article).
The photo above, showing Howard Walker and President Trible shaking hands after the unveiling, as Mrs. Walker watched, is also courtesy of CNU photographers. The one below is a
January 2015 Site Map provided by CNU's Executive Vice President and alumnus William (Bill) Brauer ('77)-- sent to me in April of 2015 for my use
in website articles about the not-yet constructed alumni house.
This map of the corner of Shoe Lane and Moore's Lane shows the proposed location (bright blue) of the alumni house. The number 72 identifies the long narrow lot that held the home (under that number) of William Walker Jr. and his family. As the map shows, it was still there in 2015. Built in 1959, it was a single family home of 2,429 square feet on a 33,106 square foot lot. It had 3 bedrooms and 2.5 bathrooms and was a one-story brick rancher with attached garage (www.redfin.com).

Having lived only two years in this comfortable middle-class new home, Walker, like many black home owners in that area, feared losing his property to the city. Although Newport News had two choices of roughly 60-acre properties available--the second, on Warwick Blvd., where Todd Stadium now is--the City Council seemed determined to purchase the Shoe Lane property, even though it would cost twice as much as the other one. Shoe Lane residents felt racism was the chief motive, especially since the city knew that William Walker Jr., at age 48 highly successful in real estate, wanted to build middle class homes for black families on those acres.

In 1961-63 the City of Newport News and the African-American home owners on Shoe Lane fought over the 34 separately owned parcels that became the core campus of CNC. College administrators reassured the residents already on Shoe Lane that their homes would not be taken, a promise that lasted until the twenty-first century.
This aerial view of CNC shows that the homes which were on Shoe Lane in 1961-63 were still there when this undated
Daily Press
photo was made (1968 or '69). Look at the top left. Between the divided driveway into the College and Moore's Lane (at the very top), you can see five homes. The fourth one up from CNC's entrance was 72 Shoe Lane, still occupied by the Walker family. I joined CNC's faculty in the fall of 1963 and stayed three decades. I well remember all the houses on the right side of Shoe Lane, from Warwick Blvd. to Moore's Lane. Most people driving to and from Christopher Newport had no idea who lived in those houses, nor what color they were.
SOURCES: Personal knowledge, except where otherwise mentioned.
__________________________________________________________
We welcome your FEEDBACK. Send to
cncmemories61_71@yahoo.com
or cnc6171@cox.net.
Published October 4, 2019
Published October 18, 2019
Dr. Jane Chambers, Editor and Head Writer

Ron Lowder Sr., Webmaster
Donations
to our Treasury are gratefully accepted.
Make out checks to
CNC First Decaders
. Mail them to
Sonny Short, FD Treasurer,
12738 Daybreak Circle,
Newport News
, VA 23602.
Your DECADER committee ALWAYS enjoys feedback on items that appear on this website. The feedback can be positive or negative...doesn't matter. It is just super for us to know that you are actually visiting YOUR website and have something to share.
Please don't hesitate to send us an email with a comment...we LOVE to hear from you!
(There is an underscore between 61 & 71 in the web address above)
This site is NOT affiliated with Christopher Newport University