ARTICLES ON THIS PAGE:
(Today through November 22nd

)



1. NEW article: Honoring CNC's First Decade Veterans: Part 1, Army (Names & Photos).
2. Rah! Rah! Rah! for CNC's First Decade Cheerleaders, Part 2: 1970 Squad and the Blue Goose.
3. NEW article: CNC's First Decade Cheerleaders, Part 3: 1971 & 1972 Squads.
4. What's in a Name? Witchduck Road and the "Witch of Pungo" [1706 witch trial in Virginia].
5. CNC's First Yearbook: The 1964 Trident.
6. NEW Cartoons: Snakes.
Work hard, be persistent and follow your dreams!
Kerri Strug
Olympic Gold Medalist, Gymnastics
Why did the picture go to jail?

---
Answer shown at the bottom of this page
Honoring CNC's First Decade Veterans:

Part 1

Army Veterans

by A. Jane Chambers



While locating and documenting CNC's students of the first decade (the First Decaders), I have asked each about military service. I now have a list of
117
who served in the 1960s or later--
105
documented and
12
not yet
located. To honor them for their service, this article names all 117 of our veterans and lists (where known) their military branches, overseas deployments, and ranks they held when they left service. Included also are photos of some of them during their military service and interesting facts and some of their memories.
Part 1
of this article is a tribute to the
52
U.S. Army veterans, 23 of whom served in Vietnam and 2 in Germany.
Two were killed in action (KIA)-- Army Lieutenant Richard Duncan (Ric) Bahr and Marine Major John Patrick (Pat) Giguere, a Cobra pilot who escaped death in Vietnam only to be shot down in1983 in the Grenada Invasion. Ric Bahr (Warwick H. S. photo top R) is the subject of two essays by Wade Williams, located in our Website ARCHIVES under the sub tab YOUR MEMORIES. A 2-part tribute to Pat Giguere (USMC photo bottom R) is also in our website ARCHIVES under the sub tab FIRST DECADE HISTORY.



Identical twins Carlton and Claude Stanley both served in Vietnam. The photo left shows Carlton (L), who commanded an intelligence unit and Claude (R), who piloted Huey helicopters (photo right), used to transport troops to and from combat and armed for defense in case attacked. Carlton retired from the army as Colonel; Claude as Lt. Colonel. Photos sent by Claude.

To keep it from being a long and possibly monotonous reading experience, this alphabetized list is broken by photographs and texts.
CLAUDE AREHART Vietnam CAPT
BOB ARTMAN (Deceased) unknown
RICHARD D. BAHR (KIA) Vietnam 1st LT
JOHN BANE Vietnam CAPT
MIKE BEARD SPEC. 4
DAVE BESSOM SPEC. 5
JOHN BROCK SPEC. 5
CHARLES CARRITHERS SPEC. 5
DELIO (Jerry) COLONNA Vietnam CAPT
SAMMY COMPTON
Jim Eyre
(above left & middle), who sent these photos, was a First Lieutenant with

the
Mobile
Riverine
Force (right above) in the Mekong Delta. Of his time there he wrote
:
One experience in Vietnam especially remains vivid in my memory. We were on patrol, traveling a dirt road. Down the road, we spotted a small child with some bags piled on the road. Knowing that the
Viet
Cong often used small children as booby traps, we sent a team
of men around our right flank. They came on a group of
VC
lying in ambush and soon scattered them. We found the child was indeed
sitting on a booby trap. After carefully defusing the bomb and him, I interestingly interrogated him with the help of our interpreter. After
some amusing conversation, we returned him to his village. This event is something I have never forgotten because it was a memorable example of how cheaply life was valued in Vietnam.
BILL CRUTE 1st LT
PAUL Q. DARDEN SPEC. 4
BOB DAVIS Vietnam SGT
GERALD DesLAURIERS Vietnam LT COL
ROSS DORNEMAN Vietnam 1st LT
DELBERT O. EDINGTON unknown
JIM EYRE Vietnam 1st LT
BERT GIMM Germany 1st LT.
LESTER GOOD Vietnam unknown
RONALD GUYE unknown
| | |
| --- | --- |
| | Kenneth G. (Ken) Smith served in the Army from July 1965 - July 1968. Trained as a stenographer, he was first at Fort Lee and then in Vietnam, where he served first with the First Cavalry Division, An Khe; Headquarters, U.S. Army Vietnam, Long Binh. He was in Long Binh during the 1968 Tet offensive. Next he was with Provisional Corps Vietnam, Phu Bai, where he first served as secretary to General Creighton Abrams and later prepared briefing files for General William Rosson. Ken sent his 1965 photo in dress uniform at Fort Jackson, S.C. |
Ed Knight

(deceased) joined the Army and attended Officer Candidate School, Infantry, while completing his law degree at William and Mary in 1968. He was transferred to Judge Advocate General (JAG) in 1969 and served in Vietnam May 1970 - May 1971. The photo of him at his desk in Vietnam was sent by his widow, Carolyn Knight. Ed also served June 1971 - Jan. 1973 at Fort Monroe and afterwards served in the Army Reserve, retiring as Colonel in Feb. 1996. He received the Army Commendation Medal and other awards. He had a 20-year law career and 12 years as District Court Judge, plus 8 years on Hampton's City Council.



ALEXANDER M. HANGER III unknown
JAMES R. (JIM) HARRIS, Jr. Vietnam unknown
LARRY HERMAN (Deceased) Vietnam CAPT
THOMAS J. HIPPLE III SGT
BRIAN HUTCHENS unknown
STEVE KIGER Vietnam unknown
C. EDWARD KNIGHT III Vietnam COL
DON LAKE (Deceased) 2nd LT
RONALD LOWDER, SR. SPEC. 5
BILL MANN CAPT
Ronald Lowder, Sr
.

(left above) and
Paul Darden
(right) were both musicians before their Army service, so quite naturally they both served as musicians while in the Army.
Ron
was stationed at Fort Eustis 1966 - 1969 as a clarinetist, performing in both the Stage Band, which played popular music, and the Concert Band.
Paul
was stationed at Fort Monroe 1968 - 1971 as a percussionist, playing in the U.S. Continental Army Command Band. As civilians Ron and Paul played together in bands such as "The Sheepherders" and "Just Us." Paul later became a publisher (publications include
Coastal Virginia
magazine). Ron had a long career with the federal government, followed upon retirement with renewal of his music career. He and son Ron, Jr. co-own Lowder Sound & Academy of Rock Music, with locations in Newport News and Virginia Beach. Ron writes, records and performs music both alone and with several bands. He is an outstanding pianist and saxophonist--and also our website's webmaster. Photos courtesy of Ron and Paul.
WAYNE MARDIS unknown
MARILYN McCABE-PRIMEAU CAPT
LLOYD MERRITT Vietnam unknown
ROY PARRISH SPEC. 4
DON PETRINE Vietnam unknown
CURTISS PITTMAN SGT
RALPH RACIOPPI unknown
THOMAS W. REDMAN CW4
DEAN (CHIP) RHODY CAPT
ROMAN SCHENKKAN Vietnam SPEC. 5
DAVID SCOGGINS Germany SPEC. 5
Thomas W. (Tom) Redman
(above L) served 35 years (1965 - Jan. 2005) active duty in Army Intelligence, mainly at TRADOC, Fort Monroe. He retired as Chief Warrant Office (CW4), then worked full time two years in Civil Service, followed by several more years part time. The photo he sent is of Tom at McDill Air Force Base in Tampa in 2003, at the CENTCOM Joint Intelligence Center.
David Scoggins
(right) served in the Army from Sept. 1968 to Feb. 1972. His rank in the photo he sent was Corporal E4; he left the service as Specialist 5. The photo was taken by his wife, Julia, on Jan. 1972 in their off base apartment in the town of Herzogenaurach in Bavaria, Germany. David was stationed at Herzo Base, an Army Security agency field station.
KENNETH SINGLEY Vietnam LT. COL
PAUL SMELTZER LT. COL.
KENNETH G. SMITH Vietnam SPEC. 5
CARLTON STANLEY Vietnam COL.
CLAUDE STANLEY Vietnam LT. COL.
LOUIS TAPIA Vietnam CAPT
ALLEN C. (KIT) THOMAS: unknown
HAROLD WALKER Germany SPEC. 4
BOB WEATHERMAN Vietnam

SPEC. 4FAIRMOUNT (MONTE) WHITE, Jr. SPEC. 5
JOHN ZSOLDOS Vietnam unknown
The above photo of the
FIRST VETERANS CLUB
at CNC was printed in the 1968
Trident
, p. 80, with
no last names
of the men.
Jim Fronkier
, who was the club's president, has identified all of the men as (clockwise from left) Tabe "Bud" Woolard (Secretary), Charles "Chuck" Bell, Jim Fronkier (President), Lynn Lindberg, Dan Clark, Charlie Sills, and foreground, Jim Walsh (Vice President).
Not yet located
are the following:
Dan Clark (5th from L)
Charlie Sills (6th from L)
Jim Walsh (foreground)
Tabe "Bud" Woolard (1st on L)

Please contact me (email below; phone: 757-238-9629) if you can help locate any of these veterans. Thank you.
_________________________________________________
We welcome your FEEDBACK. Send to
cncmemories61_71@yahoo.com
or cnc6171@cox.net.
Published November 9, 2018
Rah! Rah! Rah!
for CNC's
First Decade Cheerleaders:
Part 2
1970 Squad and the Blue Goose
by A. Jane Chambers
By the 1969 - 70 academic year CNC was transitioning from a 2-year to a 4-year college, with a junior class taking upper-level courses. Some of the women who were on this 1970 squad would therefore be members of the college's first (1971) or second (1972) baccalaureate degree classes.

Shown left above is co-captain Kathy Green (later Smith), serving her third year as cheerleader and second as co-captain of the squad. Sadly, Kathy is now deceased. Above middle is Karen Morgan (later Forrest), serving her second of three years as a CNC cheerleader. Both Kathy and Karen earned their 4-year degrees in 1971. On the right above is co-caption Kay Johnson (later Hogan), in her second of four years as cheerleader. She was in the 4-year class of 1972. I've lost contact with Kay.
Above left is
Linda Watson
(later Ritenour) and in the middle is
Sandy Hughes
(later Deans), both of whom were in the second (1972) baccalaureate class CNC. Both were also cheerleaders this one year. On the right is
Candy Hixson
(later Whitley) in her first of two years as a CNC cheerleader. She was in CNC's 4-year class of 1975. I have lost contact with Linda Watson Ritenour.
I have not been able to locate these last four squad members. Linda Lackey (left) and Janie Riley (right) were both on this 1970 squad and the 1971 squad. Janie was a co-caption in 1971. Please contact me if you can help me find Linda or Janie

.



Becky Crenshaw

(left) and Pat Thompson (right) also have not yet been located. To my knowledge they were cheerleaders only this one academic year. Please contact me if you can help me find Becky or Pat.



By this time the college had a bus, which Director Cunningham got from the state surplus in Richmond for $500 dollars, so we faculty volunteers no longer had to drive team players or cheerleaders to and from away games. The used bus was painted blue with "Christopher Newport College" white lettering on each side. In his essay "Setting the Sail: Launching the Men's Basketball Program," Coach Bev Vaughan wrote:
We thought the transportation issue was settled—until the first cold night when we realized there was no heat beyond the second row of seats. Some of us, including Jane [Chambers], never sat beyond the range of that heater on cold nights.

That bus, called the "Blue Goose," was in the state maintenance shop more often than it was on the road. Nobody knows the origin of the name "Blue Goose." Maybe it reminded people of Howard Hughes's "Spruce Goose," which was plagued with mechanical problems from the beginning. Or maybe it was named that because it left us blue with cold.

One of the first drivers of the "Blue Goose" was accounting professor Don Riley. Don was an extremely careful driver, but, oh, did he drive so very slowly. We often kidded him about his slow driving. Someone once said if we had a game with ODC in Norfolk, it would be a two-day trip, with an overnight stay at the Strawberry Banks Motel!
(
Memories of Christopher Newport College: The First Decade
,
,
pp. 122-123).
If you have memories of riding in the Blue Goose or being a CNC cheerleader, please
contact me at
cncmemories61_71@yahoo.com.
Please contact me also if you can help me connect with any of these former cheerleaders--
Kay Johnson Hogan, Linda Watson Ritenour, Linda Lackey, Janie Riley, Becky Crenshaw,
and/or
Pat Thompson
.
__________________________________________________________
We welcome your FEEDBACK. Send to
cncmemories61_71@yahoo.com
or cnc6171@cox.net.
Published October 26, 2018
CNC's
First Decade Cheerleaders:
Part 3
1971 & 1972 Squads
by A. Jane Chambers
Obvious in the top photo are the new blue and white uniforms that the 1971 cheerleaders wore, which showed a lot more leg than had the earlier uniforms. A quick look at Parts 1 and 2 of this article shows the gradual shortening of the skirt length of the original uniform. The 1971 cheerleaders also wore the old uniform too, but with the skirt shortened, as is evident in photo 2 below. There was also a change from white turtleneck sweaters to white blouses. Two other changes were from the blue knee high socks to shorter white socks (showing more leg) and from white tennis shoes to black and white saddle shoes.
Above left is Linda Lackey in the original uniform with shortened skirt. She has not yet been located. The middle photo shows co-captains Kay Johnson (later Hogan) in her third year, and Janie Riley (sadly, now deceased) in her second year of cheerleading. I think Kay is the one seated. The military-like insignia on the left arm of the standing woman suggests she is Janie, who had completed one year of cheerleading in 1970. Kay no doubt had 2 such marks for her two previous years. On the right is Candy Hixson (later Whitley), also in her second year as cheerleader. I don't know why she has no insignia.
On the left above is Debbie Melo, who is not yet located. In the middle is Karen Morgan (later Forrest), in her third year as cheerleader (note the two-year insignia). And on the right are two more women not yet located, Dianne Epperson (standing) and Renee Reese, who apparently was the first black cheerleader at CNC.
Above left is Kathy Weeks, another former cheerleader not yet located. To the right are (left) Suzanne Cicero, also not yet located, and (right) Pam Sanderson (later Duncan). Suzanne and Pam, plus four other members of this squad--Candy Hixson, Kay Johnson, Debbie Melo, and Janie Riley--were also members of the college's first sorority, Pi Kappa Sigma, as was Nancy Ames, who was on the 1970 squad.
All photos above are from the 1971
Trident
, pages 72 and 73. Please contact me at
cncmemories61_71@yahoo.com
if you can help me locate the following 1971

cheerleaders:
Kay Johnson Hogan
(who has apparently moved),
Linda Lackey
,
Debbie Melo
,
Dianne Epperson
,
Renee Reese
,
Kathy Weeks
, and/or
Suzanne Cicero
.
For reasons known only to the staff, the 1972
Trident
's
coverage of the cheerleaders was very inadequate. In contrast to the two-page spreads in CNC's previous yearbooks, with all squad members shown and identified, in the 1972
Trident
there were only five
photos of the cheerleaders--two on p. 61 (shared with 7 action photos of men's basketball) and three on p. 62 (along with one basketball photo). Most disappointing is the lack of identification of any of the cheerleaders.
Obvious in the above photo is that the 1972 cheerleading squad had a new uniform--with a skirt even shorter than that on the new 1971 uniform. Visible under the folded up bleachers is the small trampoline we saw the 1970 squad using (see
Part 2
).
Maybe it was still part of the cheerleading routine. Or maybe not.
The unidentified cheerleader left above is sporting a new monogram, although neither here nor elsewhere in this small group of pictures do we get a complete view of it. Her unidentified team member on the right is wearing the cheerleader uniform introduced the previous year. We can't quite see the monogram on it either.
These last two pictures are together because I believe the same cheerleader is in both photos and that she is most probably
Kay Johnson
(later Hogan). Notice that this cheerleader is wearing matching barrettes in her hair (photos left & right). More importantly, notice the insignia on her left sleeve (photo right), which shows that she was a CNC cheerleader the previous three years. It is a documented fact that Kay Johnson was the only CNC cheerleader in the first decade who was on four
consecutive squads (1969 - 1972). She received her bachelor's degree at CNC in 1972.
Please contact me (email below) if you can help locate any of the cheerleaders whose
names are in red
in this 3-part article. Thank you, and I hope you enjoyed this series.
_______________________________________________________
We welcome your FEEDBACK. Send to
cncmemories61_71@yahoo.com
or cnc6171@cox.net.
Published November 9, 2018
What's in a Name?
Witchduck Road and the "Witch of Pungo"
by A. Jane Chambers
The Court had "Antient and Knowing women... Serch her Carefully For
all teats spots and marks about her body not usuall on Others, and ...as they
Find the Same to make report on Oath To the truth thereof to the Court." 
--1706 Court Records, Trial of Grace Sherwood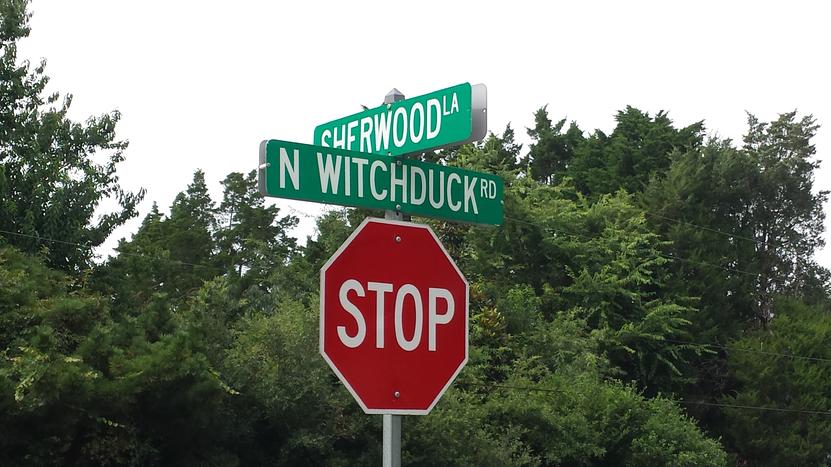 Stop sign in the Witch Duck Point area of Virginia Beach. Internet photos: 1, 2, 5, 6, & 7.
The story behind the name Witchduck Road, in present day Virginia Beach, goes back 300 years, when many people believed some people were witches in league with Satan, and could cause horrible events such as terrific storms, failed crops, and deaths of people and livestock. One victim of such medieval views was Grace White Sherwood (born ca. 1660), a widow of about 47 who was, on July 10, 1706, bound hands to feet and thrown ("ducked") from a boat into the Lynnhaven River, to test whether she was a witch. The belief was that if she sank, she was innocent; but if she floated, she was guilty, since water, being pure, would reject her. It was the only time in Virginia that a trial by ducking occurred.
The tranquil scene above is where Grace Sherwood was ducked: Witch Duck Bay, located at the end of North Witchduck Road and facing Witch Duck Point--20th century names acknowledging the 17th century miscarriage of justice suffered by the "Witch of Pungo." Imagine the shoreline filled with hateful people shouting "Duck the witch!" and "Send her to the Devil!" Who was this woman, and why was she believed to be a witch? Wikipedia has a rather good summary of her life, trials, and legacy, citing numerous sources, some of which I've also explored.
Grace white was born about 1660 in Pungo, then a part of Princess Anne County (now southern Virginia Beach), the daughter of John White, a Scottish carpenter and small-farm landowner, and Susan White, an English woman. In 1680, Grace married James Sherwood, also a small-farm landowner, in the Lynnhaven Parish Church. Grace's father gifted the newlyweds with 50 acres of his land, fronting on Muddy Creek, and upon his death the next year, left the young couple the rest of his land, 145 acres. Grace and James had three sons and the family farmed this land the rest of their lives. Grace also worked as a midwife and a healer, treating people and animals with medicinal herbs she grew ("Grace Sherwood," Wikipedia).
Princess Anne County Court Records detail Grace's court cases. Her trials for witchcraft began in 1697, when a neighboring farmer accused her of causing his bull's death. In 1698, she was accused of bewitching the hogs and cotton crop of another farmer. Later, she was accused of turning herself into a black cat, entering a woman's bedroom, tormenting her, then exiting through a keyhole. Guilt was never proven in these cases or any of the others before the "witch duck" case (1706), and after each trial, Grace sued for slander, but never won, so she and her husband, James, had to pay court costs. In 1701 James died, leaving the farm to her. She never remarried, and she and their sons continued their peaceful farming, but the rumors that she was a witch did not die and the court cases continued ("Sherwood," Wikipedia, & "Witchcraft," Encyclopedia Virginia). Grace's biographer, Belinda Nash, says Grace Sherwood's court cases, as defendant or as plaintiff, numbered about a dozen before the 1706 trial ("Virginia Woman Seeks to Clear Witch, USA Today, 7/9/2006).
The above pages are from "Witchcraft in Colonial Virginia," in the Encyclopedia Virginia (441 - 442). They are a 1914 transcript of the court proceedings of Grace Sherwood's 1706 trial in Princess Anne County Court, reprinted from Narratives of the Witchcraft Cases, 1648 - 1706, ed. by George Lincoln Burr, with some spellings modernized and contractions expanded for clarity. The heading on the left page ("Under July 5") is where details of the ducking trial begin.
That final trial (July 10, 1706) grew out of a fight in 1705 between Grace and a neighbor, Elizabeth Hill. Grace sued the woman and her husband for assault and battery and won damages on December 7 of twenty shillings (1 pound sterling). On January 3, 1706, the Hills accused her of witchcraft, a charge Grace ignored, not appearing in court. Next, they charged her with having bewitched Elizabeth, causing her to have a miscarriage, and the court ordered Grace to appear in court on that charge on February 7, 1706 (Wikipedia).
Court records above suggest that the officials were somewhat reluctant to try Grace yet again for witchcraft. There were problems getting "a Jury to Serch her" (for Devil marks) and there was concern that she have a fair trial. She agreed to the ducking, scheduled first for July 5, but "the weather being very Rainy and Bad" on that day, "Soe that possibly it might endanger her health," the court postponed the water test to July 10, 1706 (p. 441 above).
On July 10, before and again after the ducking, a Jury of "Ansient and Knowing women" undressed and searched Grace "For all teats spotts and marks...not usuall on Others" and swore they found "two things like titts on her private parts of Black Coller" (p. 442 above). These were seen as "Devil's marks," evidence of her being a witch. The major "proof" of guilt, of course, was that when she was put into the water, not only did she not sink, but all watching her clearly saw her "Swiming when therein and bound Contrary To Custom" (p. 442 above).
She was jailed "in the Common Goale of the country," near her parish church, with an expectation she would be retried later at the court in Williamsburg, the Colonial Capitol, but there is no record of that ever happening. Additional records of this case, if any, were lost in a fire in the next century (p. 442). We do know, however, that in 1714, she was released from prison, paid her back taxes, and with the help of Virginia's Lieutenant Governor Alexander Spotswood, recovered her property from Princess Anne County, after which she lived on her farm until her death in 1740 at the age of about 80 (Wikipedia).
| | |
| --- | --- |
| Grace White Sherwood was virtually forgotten until 1973, when Virginia Beach historian and author Louisa Venable Kyle wrote a children's book of local folk tales with Grace's story as the title: The Witch of Pungo. Interest grew in this piece of Colonial history, leading in 2002 to the erection of the historical marker shown here, located near Sentara Bayside Hospital in Virginia Beach (Wikipedia). | |
In the 1980s, Grace gained a champion, Belinda Nash, a Canadian who moved to Virginia Beach and became curious about the name Witchduck Road, near her home. Until her death in 2016, Nash researched Grace and spoke often and everywhere about her. In 2012 she and her daughter, Danielle Sheets, published their biography of Grace--A Place in Time: The Age of the Witch of Pungo (Wikipedia). Nash also led a movement to have Grace's good name restored and a nearly life-sized bronze statue of her erected. Nash and her husband donated $17,000 toward the $92,000 cost and on July 10, 2006, the 300th anniversary of Grace's conviction, Virginia Governor Tim Kaine restored her good name, recognizing Sherwood's case was a miscarriage of justice (Virginian-Pilot, "Grace ... Pardoned," Summer 2006, p. 17).
| | |
| --- | --- |
| | The statue (left) was unveiled on April 21, 2007, on the site of the present-day Sentara Bayside Hospital, close to the sites of both the colonial courthouse and the ducking point. California sculptor Robert Cunningham depicted Grace with a raccoon, representing her love of animals, and a basket of rosemary, representing her knowledge of herbal healing. Nearby is also the historical marker shown earlier(Wikipedia). |
| | |
| --- | --- |
| In 2014, this memorial stone marker (right) was placed in the herb garden of the Old Donation Episcopal Church, the site of Sherwood's own church, Lynnhaven Parish Church. Nash commented: "I was so happy when I heard this stone was going to be placed. My heart was relieved to hear the church was welcoming it" (Wikipedia). | |
Why was Grace Sherwood labeled as a witch? We have no drawings or paintings of her, but Nash summarized the contemporary descriptions of her she found: " Sherwood was a tall, good-looking and unconventional woman who grew herbs for medicine, owned prime waterfront property and wore trousers--taboo for women at that time--when she planted crops." She also "just knew too much." Nash thinks many of the Pungo neighbors "were jealous and made up witchcraft tales to get rid of Sherwood, perhaps to take her land" ("Virginia Woman," USA Today, 7/9/2006).
__________________________________________
We welcome your FEEDBACK. Send it to
cncmemories61_71@yahoo.com
Published September 16, 2016

Republished October 26, 2018
CNC's First Yearbook:
The 1964 Trident
By A. Jane Chambers
with information from
Shirley Fields Cooper
Shirley Fields designed the cover of the first yearbook, which approximated the College's colors, blue and gray. The three thin stripes on the left, she says, represented the three prongs of King Neptune's trident.

The honor of creating the first CNC yearbook goes to the Class of 1964. In a telephone interview with

Shirley D. Fields

(now

Cooper

), Editor of the 1964 Trident, I learned that the desire to have a yearbook arose from talks among a group of students who, like her, had staffed their high school yearbooks. Shirley, who had edited her 1962 Hampton High School yearbook, was chosen among this volunteer group to be their leader. They met with

Director H. Westcott Cunningham

, who gave his permission for the project.

An announcement that there would be a yearbook appeared in the first edition (Nov. 7, 1963) of The Captain's Log, along with a statement that the book would be paid for by the College, with copies issued "free of charge" to all full-time students, faculty, and staff, and sold to others for $4.00 (Vol. I, Issue 1, p. 4).



Joining Editor

Shirley Fields

on the yearbook staff were Co-Editors

Thomas Saunders

and

W. Daniel Burton, Jr

. and ten additional dedicated students (see photo below).
Of these 13 members of the first Trident staff, one is deceased, Paul H. Keene, and 3 have not yet been located: Diana Hubbard, Sue Ann Scott, and Helen Gayle Stanley. Please help us find these 3. Photo from p. 52 of the 1964 Trident. Illustration by Shirley Fields.
Serving as faculty advisors were English professor

Elizabeth B. Scott

and physics professor

E. Graham Pillow

, both of whom had joined the faculty its second year (1962-63). Mrs. Scott left CNC at the end of the 1964-65 academic session to join her husband, who had accepted a position at the American University in Lebanon. Mr. Pillow later became CNC's first Chair of Computer Studies, instigated the first interdependent B.S. degree, Management Information Science, and remained with the College until 1978, when he left to accept an appointment as director of medical computing at the University of Virginia.




Elizabeth B. Scott. 1964 Trident, p. 12.

E. Graham Pillow. 1964 Trident, p. 14.
Talented in art since childhood, Editor Fields provided all of the artwork for this first yearbook, beginning with the illustration on the title page (photo left) of mythological sea-god King Neptune's crown and trident. The staff chose the name

Trident

(Shirley's suggestion) for the yearbook because Neptune's three-pronged spear was both "an instrument of power" and "a spur of the spirit," representing "the strength that comes from the intertwining of purpose with knowledge [and] with humility" ("Symbol of the Trident," p. 2, written by Fields).



Central on page 3 of the yearbook is Editor Fields's drawing of a ship under full sail, above a short list of the book's content: Administration, Classes, Activities, and Advertisements (photo left). The following two pages (4 & 5) summarize

Captain Christopher Newport

's services to England. Page 4 is headed by Shirley's drawing (see left) of Captain Newport (based on the work of artist

Allan D. Jones, Jr

.). Discussed here is how Newport served as the "Queen's privateer" during the reign of Queen Elizabeth I, who praised him for "his fine qualities of leadership, … dependability, loyalty, and courage," and how he became known as "the one-armed Englishman who struck with the suddenness of a tropical storm" yet "treated his prisoners with kindness."




Page 5 primarily summarizes Newport's peacetime role, during the reign of King James, as "The Admiral of Virginia"—heading the Jamestown voyage, exploring and mapping the James and York rivers, returning to the colony with new supplies and people, and so forth. The essay concludes with Newport's death in 1617 and his lasting reputation for "justice…tempered with humanity." Shirley Fields wrote this article also, citing as her major source passages in Ancient Adventurers, by Samuel M. Bemiss.



This first yearbook was, quite appropriately, dedicated to

Director Cunningham

, whom the students praised for his "steadfast service" to "the students, the faculty, and the community" and called "the first and most beloved pioneer of Christopher Newport College" (see right). Although full-time students were given free copies of this first Trident, they had to pay to have their portraits made for it ($2.00 for three poses). Not all students could afford that expense, unfortunately, so the book does not fully reflect the student body present that year, especially those attending part-time or only in the Evening College. The black-and-white portraits of the sophomores (47), freshmen (108), and student nurses (29) were taken by Farabee's Studio, which provided the traditional v-necked black drapes for the women's photographs (no jewelry allowed) and the white tuxedo jackets, white shirts, and black bow ties for the men's photos. The College's administrators (5), staff (5), and faculty (18) provided their own black-and-white studio portraits, wearing business-style clothing.



The first yearbook's team leaders (L-R):

W. Daniel Burton

(Co-Editor),

Shirley D. Fields Cooper

(Editor), and

Thomas L. Saunders

(Co-Editor). From pages 17, 19, & 23 of the 1964 Trident
The Activities section (10 pages) recorded campus life, with photos of the Student Government Association (SGA) officers and representatives, the Trident staff, the Captain's Log staff, and officers and members of the Circle K Club. Photos in this section were no doubt made by the Trident's student photographers, who also provided, at the very end of this section, three pages of mostly candid snapshots of student life. Miss CNC of 1964,

Sheilah Kathleen Cassidy

, and her court had a two-page spread, posing in their formal gowns and long white gloves. Their photos look rather professional. There were no sports pictures, since there were apparently no organized sports that year. To see more pictures from this first yearbook, as well as some from the 1965 Trident, go to our

School Pictures

tab, subtab

1964-1965

(left margin, top of this page).
Although the 1964 Trident was a modest-sized book (8" wide by not quite 11" long), with only 59 pages of text and photos, plus 21 pages of advertising, it is a document of great importance in the history of CNC. That it was initiated by the students shows the strong attachment—if not, indeed, love—that these early first decade students felt toward their small college. That CNC's leader not only sanctioned the creation of a yearbook, but had the College's treasury almost fully finance it, reflects Director "Scotty" Cunningham's practice of whole-heartedly supporting virtually every project the students advanced. And that the book had such a large number of advertisements underscores the Peninsula community's strong pride in and support for the young school which it considered to be

its

college. Those fortunate enough to own copies of this first CNC yearbook possess a small treasure.
___________________________________________________
SHIRLEY D. FIELDS COOPER "proudly attended" CNC 1962-64.

She then earned at ODU a BA in Math ('67) and a Certificate in the School of Engineering-Computer Science
('81) . She

taught math, science, & physics in Hampton

(1968-70), York Co. (71-83), & Gloucester (1993-2003) and was Coordinating Principal of

Victory Academy, in
Gloucester, 1993-2003. She retired from teaching in 2003. She also held elected office 23 yrs. on the York

Co. Board of Supervisors and was a Representative in the VA Gen.
Assembly & a member of the

Nat'l

Bicentennial Comm., 1974-81. Her husband, Ned Cooper, an electronics technician at NASA, died in 2003. She has two married sons and two
granddaughters.
Note: Some of the material in this article appeared originally in "The First Student Publications: Chris's Crier and the Trident," by Jane Chambers, in Memories of Christopher Newport College: The First Decade, 1961-1971, by A. Jane Chambers, Rita C. Hubbard, and Lawrence Barron Wood, Jr. (Hallmark Publishing Co., Inc., 2008).
---
We welcome your FEEDBACK. Send to
cncmemories61_71@yahoo.com
or cnc6171@cox.net.
Published January 10, 2014

Republished September 28, 2018
ANSWER: Because it was framed.

Dr. Jane Chambers, Editor and Head Writer

Ron Lowder Sr., Webmaster
Donations
to our Treasury are gratefully accepted.
Make out checks to
CNC First Decaders
. Mail them to
Sonny Short, FD Treasurer,
12738 Daybreak Circle,
Newport News
, VA 23602.
Your DECADER committee ALWAYS enjoys feedback on items that appear on this website. The feedback can be positive or negative...doesn't matter. It is just super for us to know that you are actually visiting YOUR website and have something to share.
Please don't hesitate to send us an email with a comment...we LOVE to hear from you!
(There is an underscore between 61 & 71 in the web address above)
This site is NOT affiliated with Christopher Newport University