Reminder:
1st DECADER PICNIC IS THIS SUNDAY (9/18/2016)
IF YOU HAVEN'T SIGNED UP BUT WOULD LIKE TO ATTEND, YOU ARE WELCOME TO DO SO...
WE'D LOVE TO HAVE YOU! NEWPORT NEWS CITY PARK, SHELTER 20, 1 PM until 5 PM.
(Today through September 29)

1. NEW article: What's in a Name? Witchduck Road and the "Witch of Pungo."
2. NEW article: Tucker Carwile's Second Free Verse Collection a Pleasant Read.
3. Memories Book Bit: Coach Vaughan's Surprising First Visit to Ratcliffe Gymnasium.
4. Daniel School's Famous First Grader: William Styron.
5. NEW humor: Only in America.
6. NEW cartoons: Cell Phone Addiction.
The best way to find something you have lost is to buy a replacement.
Ann Landers
Advice columnist
(1918 - 2002)
How did the farmer meet his wife?
---
Answer shown at the bottom of this page
What's in a Name?
Witchduck Road and the "Witch of Pungo"
by A. Jane Chambers
The Court had "Antient and Knowing women... Serch her Carefully For
all teats spots and marks about her body not usuall on Others, and ...as they
Find the Same to make report on Oath To the truth thereof to the Court." 
--1706 Court Records, Trial of Grace Sherwood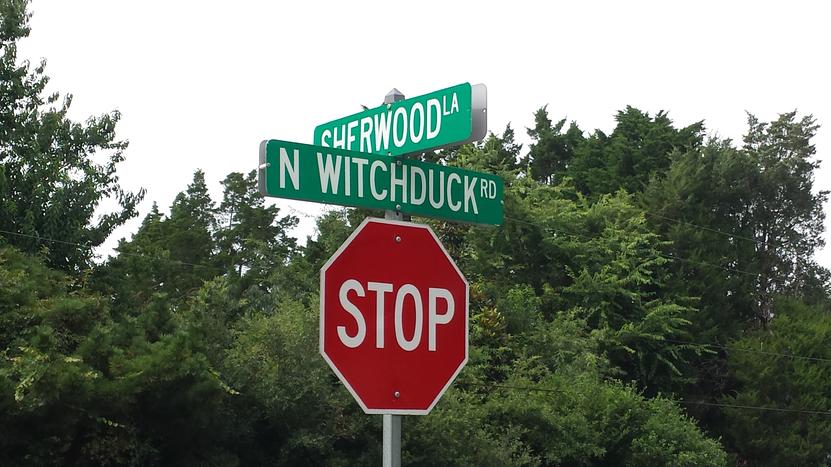 Stop sign in the Witch Duck Point area of Virginia Beach. Internet photos: 1, 2, 5, 6, & 7.
The story behind the name Witchduck Road, in present day Virginia Beach, goes back 300 years, when many people believed some people were witches in league with Satan, and could cause horrible events such as terrific storms, failed crops, and deaths of people and livestock. One victim of such medieval views was Grace White Sherwood (born ca. 1660), a widow of about 47 who was, on July 10, 1706, bound hands to feet and thrown ("ducked") from a boat into the Lynnhaven River, to test whether she was a witch. The belief was that if she sank, she was innocent; but if she floated, she was guilty, since water, being pure, would reject her. It was the only time in Virginia that a trial by ducking occurred.
The tranquil scene above is where Grace Sherwood was ducked: Witch Duck Bay, located at the end of North Witchduck Road and facing Witch Duck Point--20th century names acknowledging the 17th century miscarriage of justice suffered by the "Witch of Pungo." Imagine the shoreline filled with hateful people shouting "Duck the witch!" and "Send her to the Devil!" Who was this woman, and why was she believed to be a witch? Wikipedia has a rather good summary of her life, trials, and legacy, citing numerous sources, some of which I've also explored.
Grace white was born about 1660 in Pungo, then a part of Princess Anne County (now southern Virginia Beach), the daughter of John White, a Scottish carpenter and small-farm landowner, and Susan White, an English woman. In 1680, Grace married James Sherwood, also a small-farm landowner, in the Lynnhaven Parish Church. Grace's father gifted the newlyweds with 50 acres of his land, fronting on Muddy Creek, and upon his death the next year, left the young couple the rest of his land, 145 acres. Grace and James had three sons and the family farmed this land the rest of their lives. Grace also worked as a midwife and a healer, treating people and animals with medicinal herbs she grew ("Grace Sherwood," Wikipedia).
Princess Anne County Court Records detail Grace's court cases. Her trials for witchcraft began in 1697, when a neighboring farmer accused her of causing his bull's death. In 1698, she was accused of bewitching the hogs and cotton crop of another farmer. Later, she was accused of turning herself into a black cat, entering a woman's bedroom, tormenting her, then exiting through a keyhole. Guilt was never proven in these cases or any of the others before the "witch duck" case (1706), and after each trial, Grace sued for slander, but never won, so she and her husband, James, had to pay court costs. In 1701 James died, leaving the farm to her. She never remarried, and she and their sons continued their peaceful farming, but the rumors that she was a witch did not die and the court cases continued ("Sherwood," Wikipedia, & "Witchcraft," Encyclopedia Virginia). Grace's biographer, Belinda Nash, says Grace Sherwood's court cases, as defendant or as plaintiff, numbered about a dozen before the 1706 trial ("Virginia Woman Seeks to Clear Witch, USA Today, 7/9/2006).
The above pages are from "Witchcraft in Colonial Virginia," in the Encyclopedia Virginia (441 - 442). They are a 1914 transcript of the court proceedings of Grace Sherwood's 1706 trial in Princess Anne County Court, reprinted from Narratives of the Witchcraft Cases, 1648 - 1706, ed. by George Lincoln Burr, with some spellings modernized and contractions expanded for clarity. The heading on the left page ("Under July 5") is where details of the ducking trial begin.
That final trial (July 10, 1706) grew out of a fight in 1705 between Grace and a neighbor, Elizabeth Hill. Grace sued the woman and her husband for assault and battery and won damages on December 7 of twenty shillings (1 pound sterling). On January 3, 1706, the Hills accused her of witchcraft, a charge Grace ignored, not appearing in court. Next, they charged her with having bewitched Elizabeth, causing her to have a miscarriage, and the court ordered Grace to appear in court on that charge on February 7, 1706 (Wikipedia).
Court records above suggest that the officials were somewhat reluctant to try Grace yet again for witchcraft. There were problems getting "a Jury to Serch her" (for Devil marks) and there was concern that she have a fair trial. She agreed to the ducking, scheduled first for July 5, but "the weather being very Rainy and Bad" on that day, "Soe that possibly it might endanger her health," the court postponed the water test to July 10, 1706 (p. 441 above).
On July 10, before and again after the ducking, a Jury of "Ansient and Knowing women" undressed and searched Grace "For all teats spotts and marks...not usuall on Others" and swore they found "two things like titts on her private parts of Black Coller" (p. 442 above). These were seen as "Devil's marks," evidence of her being a witch. The major "proof" of guilt, of course, was that when she was put into the water, not only did she not sink, but all watching her clearly saw her "Swiming when therein and bound Contrary To Custom" (p. 442 above).
She was jailed "in the Common Goale of the country," near her parish church, with an expectation she would be retried later at the court in Williamsburg, the Colonial Capitol, but there is no record of that ever happening. Additional records of this case, if any, were lost in a fire in the next century (p. 442). We do know, however, that in 1714, she was released from prison, paid her back taxes, and with the help of Virginia's Lieutenant Governor Alexander Spotswood, recovered her property from Princess Anne County, after which she lived on her farm until her death in 1740 at the age of about 80 (Wikipedia).
| | |
| --- | --- |
| Grace White Sherwood was virtually forgotten until 1973, when Virginia Beach historian and author Louisa Venable Kyle wrote a children's book of local folk tales with Grace's story as the title: The Witch of Pungo. Interest grew in this piece of Colonial history, leading in 2002 to the erection of the historical marker shown here, located near Sentara Bayside Hospital in Virginia Beach (Wikipedia). | |
In the 1980s, Grace gained a champion, Belinda Nash, a Canadian who moved to Virginia Beach and became curious about the name Witchduck Road, near her home. Until her death in 2016, Nash researched Grace and spoke often and everywhere about her. In 2012 she and her daughter, Danielle Sheets, published their biography of Grace--A Place in Time: The Age of the Witch of Pungo (Wikipedia). Nash also led a movement to have Grace's good name restored and a nearly life-sized bronze statue of her erected. Nash and her husband donated $17,000 toward the $92,000 cost and on July 10, 2006, the 300th anniversary of Grace's conviction, Virginia Governor Tim Kaine restored her good name, recognizing Sherwood's case was a miscarriage of justice (Virginian-Pilot, "Grace ... Pardoned," Summer 2006, p. 17).
| | |
| --- | --- |
| | The statue (left) was unveiled on April 21, 2007, on the site of the present-day Sentara Bayside Hospital, close to the sites of both the colonial courthouse and the ducking point. California sculptor Robert Cunningham depicted Grace with a raccoon, representing her love of animals, and a basket of rosemary, representing her knowledge of herbal healing. Nearby is also the historical marker shown earlier(Wikipedia). |
| | |
| --- | --- |
| In 2014, this memorial stone marker (right) was placed in the herb garden of the Old Donation Episcopal Church, the site of Sherwood's own church, Lynnhaven Parish Church. Nash commented: "I was so happy when I heard this stone was going to be placed. My heart was relieved to hear the church was welcoming it" (Wikipedia). | |
Why was Grace Sherwood labeled as a witch? We have no drawings or paintings of her, but Nash summarized the contemporary descriptions of her she found: " Sherwood was a tall, good-looking and unconventional woman who grew herbs for medicine, owned prime waterfront property and wore trousers--taboo for women at that time--when she planted crops." She also "just knew too much." Nash thinks many of the Pungo neighbors "were jealous and made up witchcraft tales to get rid of Sherwood, perhaps to take her land" ("Virginia Woman," USA Today, 7/9/2006).
__________________________________________
We welcome your FEEDBACK. Send it to
cncmemories61_71@yahoo.com
Published September 16, 2016
Tucker Carwile's Second Free Verse Collection a Pleasant Read
by A. Jane Chambers
Tucker Carwile's Roads Taken (Belle Isle, 2015), gives the reader glimpses of Carwile's thoughts and feelings at many stages of his life, from his youth--when he was "a boy trying to become a man"--to his middle years--when "Conquest was the objective"--to the present, as he and Becky, once his high school sweetheart, reunite to make a new life together in their sixties, with new understandings of love and life.
Several reviews at the book's beginning and on the back cover, plus a short biography on the last page, introduce both Roads Taken and Tucker Carwile. The book's title, an allusion to Robert Frost's famous "The Road Not Taken," is echoed in the collection's organization into five sections of "Roads" Carwile took in his life, "whether right or wrong," with the final section, "Roads to Happiness," addressed to "My Muse," Becky, to whom the book is also dedicated.
| | |
| --- | --- |
| Tucker Carwile and Becky Brown met at Thorpe Junior High when both lived in Hampton's Wythe neighborhood and became sweethearts at Hampton High. Their relationship continued for awhile at CNC, where Tucker began traveling his road as a biology major and Becky began traveling hers as a Riverside nursing student. But then each "traveled many roads" separately for decades, until reunited in 2013, returning "to our beginning and each other's arms." | |
In addition to his love for Becky, Roads Taken captures Carwile's feelings and thoughts about other people (some known, some strangers)-- from his parents to a neighbor, to a soldier guarding the Tomb of the Unknown Soldier. Tucker writes also about his feelings about nature--from oceans to eagles to sunrises. The selections are short (one per page) and easy to read, written in a conversational tone with minimal use of traditional poetic devices, in keeping with the author's description of his writing as "Poetry for everyone."
Roads Taken is available online through both Amazon and Barnes & Noble. CNC First Decaders can get an autographed and discounted paperback copy of the book by contacting Tucker at either (434) 315-5623 or amtuckcarwile@msn.com. Copies of his first collection, Lone Sentinel (2013) are also available at these same locations.
NOTE: At 8:00 a.m. on September 21st Tucker will be interviewed about Roads Taken on WFLO-FM, 95.7, in Farmville, VA.
_________________________
| | |
| --- | --- |
| | Tidewater native and CNC First Decader C.Tucker Carwile, Jr. (BS, Biology, 1972) worked in Hampton, VA, for his father's Chrysler dealership, Merrimac Motors, 1972-87, then worked for Nationwide Insurance until retiring in 2009. He now teaches I-CAR classes. He and his first wife, Peggy Cross Carwile (deceased 2006) had two children--C.T. "Corey" Carwile III, a chiropractor, and Amie Carwile Tugwell, a Special Education teacher--and 4 grandchildren. Tucker and Becky Brown Carwile, married November 2015, live in a home they built near Farmville, VA. |
We welcome your FEEDBACK. Send it to
cncmemories61_71@yahoo.com
Published September 16, 2016
A Memories Book Bit:
Coach Vaughan's Surprising First Visit to Ratcliffe Gymnasium
Coach Bev Vaughan's Account, on pages 118-119 *
Scotty told me I could visit Ratcliffe Gymnasium, still under construction, any Sunday, when it would be empty of workers. He said I did not need to have a College representative with me, because some exterior doors were not yet hung, so the building would be open. I went there alone one Sunday afternoon. When I arrived in misty rain and heavy cloud cover, I did not see a single vehicle or person on campus. Entering the front of the building, I moved about the hallway and ultimately to the main gym, which appeared to be near completion.
| | |
| --- | --- |
| Moving through the hallway toward the men's locker room, I heard a faint sound, and as I opened the locker room door, a man jumped in front of me, pointing a gun directly at me! Words cannot explain the fear I felt--and the need to use the locker room's rest room! | Bev Vaughan in the 1968 TRIDENT, p. 30. |
The man demanded, "Who are you? And why are you in this building?" I explained. He responded, "I'm the construction security guard and I'm just doing my job." I'll never forget my first greeting at Ratcliffe Gym!
________________________________________________
* "Setting the Sail: Launching the Men's Basketball Program," by R. Bev Vaughan Jr., in Memories of Christopher Newport College: The First Decade, by A. Jane Chambers, Rita C. Hubbard, & Lawrence B. Wood, Jr. (Hallmark, 2008). TO ORDER BOOK: Send check for $20 made out to Jane Chambers to: Dr. Jane Chambers, 15267 Candy Island Lane, Carrollton, VA 23314. Money (minus mailing cost) is donated to the First Decaders' Treasury.
_______________________________________________
We welcome your FEEDBACK. Send to
cncmemories61_71@yahoo.com
Published September 01, 2016
Daniel School's Famous First Grader:
William Styron
(Revised 09/02/16)
by A. Jane Chambers
| | |
| --- | --- |
| | In her essay "The Graduating Class of One," CNC first graduate Lois Wright wrote of the former Daniel School that if she and her CNC classmates had known in 1961-62 "that Pulitzer Prize winner William Styron (author of The Confessions of Nat Turner) had spent most of his first year of grammar school there, we might have felt more reverence for the old building." |
To verify that she was correct on this point, Lois "e-mailed Styron's biographer, James L. W. West III, author of William Styron: A Life, who wrote back: " 'Billy' Styron, as he was then known, did go to first grade in the John W. Daniel Grammar School. He entered in the fall of 1931. Near the end of that school year, his parents bought the house at 56 Hopkins Street in Hilton Village, so Billy finished first grade at Hilton Village Elementary School' " (Memories of Christopher Newport College: The First Decade, p. 183). He then attended Hilton Elementary, followed by Morrison High School for two years, until sent to a private boarding school.
Below is a photo of Styron's boyhood home in Hilton Village and more information about him, courtesy of Jane Carter Webb, CNC/CNU Professor Emerita of Physics and Computer Science. This material is from page 104 of her book Newport News (Acadia, 2003).
Born in Newport News in 1925, where his father was an engineer in the Newport News Shipyard, William Styron first gained international attention for his novel Lie Down in Darkness (1952), set in "Port Warwick" (echoing what was then Warwick County, where Hilton Village was located).
In 1967 he published The Confessions of Nat Turner, based on an actual slave revolt in Southampton County, VA, in 1831, during which at least 60 white men, women & children were slaughtered by a group of male slaves led by a slave named Nat Turner. This novel earned Styron a Pulitzer Prize in 1968.
| | |
| --- | --- |
| Five years later, during the CNC presidency of James C. Windsor, Styron was the first internationally famous person to speak at Christopher Newport College. He delivered the Commencement Address at CNC's May 20, 1973 graduation, held in Ratcliffe Gymnasium. His address is housed in the library at Duke University, where Styron earned his B.A. in English in 1947. | Wikipedia photo of William Styron. Source not given. |
Other famous works by Styron include Sophie's Choice (1979), which resulted in a move in 1982 starring Meryl Streep, and Darkness Visible: A Memoir of Madness (1990), the author's autobiographical account of his long struggle with depression. The title came from John Milton's Paradise Lost, in which Milton described Hell as "darkness visible." William Styron died of pneumonia in 2006 at age 81.
---
We welcome your FEEDBACK. Send to
cncmemories61_71@yahoo.com
First published January 10, 2012
Revised and republished September 2, 2016
Only in America
by A. Non
1. Only in America......can a pizza get to your house faster than an ambulance.

2. Only in America......are there handicap parking places in front of a skating rink.

3. Only in America..... do people order double cheeseburgers, large fries, and a diet soda.



4. Only in America......do drugstores make the sick walk all the way to the back of the store to get their prescriptions while healthy people can buy cigarettes at the front.

5. Only in America......do banks leave both doors open and then chain the pens to the counters.

6. Only in America......do we leave cars worth thousands of dollars in the driveway and put our useless junk in the garage.

7. Only in America......do we use answering machines to screen calls and then have call waiting so we won't miss a call from someone we didn't want to talk to in the first place.

8. Only in America......do we buy hot dogs in packages of ten and buns in packages of eight.

9. Only in America......is the handicap stall in the public bathroom at the very end of the row of stalls.
10. Only in America......do they have drive-up ATM machines with Braille lettering.
_____________________________________________

Published September 16, 2016
Published September 16, 2016
Your DECADER committee ALWAYS enjoys feedback on items that appear on this website. The feedback can be positive or negative...doesn't matter. It is just super for us to know that you are actually visiting YOUR website and have something to share.
Please don't hesitate to send us an email with a comment...we LOVE to hear from you!
(There is an underscore between 61 & 71 in the web address above)
Donations
to our Treasury are gratefully accepted.
Make out checks to
CNC First Decaders
. Mail them to
Sonny Short, FD Treasurer,
12738 Daybreak Circle,
Newport News
, VA 23602.
This site is NOT affiliated with Christopher Newport University