ARTICLES ON THIS PAGE:
(Today through January 19

)



1. NEW article: Blue Star Diner Update: Kitchen Renovation Permit Granted; Historic Status Possible.
2. NEW article: Looking for Class of 1967 Sophomores: Melvin Procter - Paige Traynor.
3. Looking for Class of 1967 Sophomores: John C. Moore - Ted Posey.
4. NEW Feedback.
5. Humor from our Archives: Christmas Dinner with Lovable Louise.
6. NEW cartoons: New Year's Resolutions.
The secret of staying young is to live honestly, eat slowly, and lie about your age.
What jumps when it walks and sits when it stands?
---
Answer shown at the bottom of this page
Blue Star Diner Renovation Likely Soon;
Historic Status Possible
by A. Jane Chambers
Summary of Daily Press (DP) article of January 2, 2017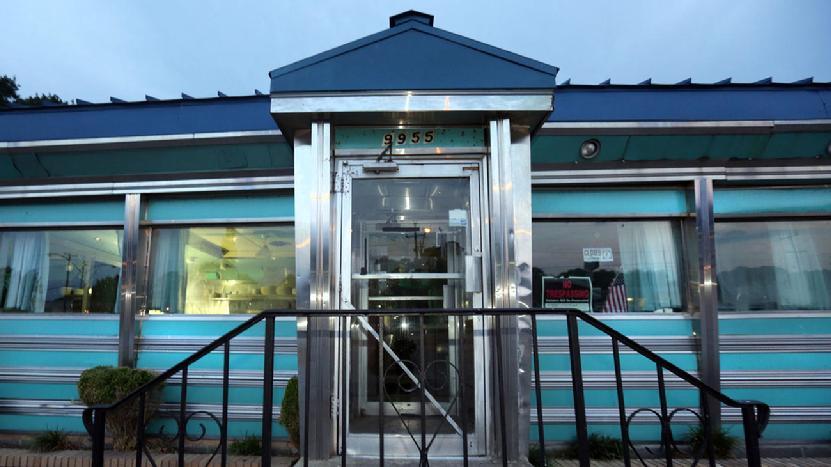 Daily Press photo by Judith Lowery (August 10, 2015, p. 5).
After six years of stagnation, The Blue Star project is likely to end happily, Daily Press reporter Reema Amin has suggested, if the necessary renovation begins this year. On December 16, 2016, the city of Newport News issued a building permit, now taped inside a window near the entrance. However, the permit warns that "it will be pulled if construction doesn't start in six months" ("RENOVATION RESOLUTION FOR EATERY?" p. 1).
Blue Star's owner, Michael Lessin, is the president of Sterling-based Belleville Diners, which specializes in buying and renovating historic mid-20th century American diners. When Belleville bought the Blue Star in 2010, Lessin promised renovations would start soon, "but unexpected costs delayed the process," he explained to reporter Amin, including "stolen air conditioning units" and "new green energy codes" ("RENOVATION," pp. 1 & 5).
Lessin said renovation could begin this month (January) but added: "Any time you're doing work on an old building and you're doing it historically correct, " there could be "surprises or unforeseen work," but the company is "committing to getting it done, and we will get it done" (p. 5). Most of the work will be renovation of the kitchen, in the back of the building. That work might take 9 to 12 months and will include "ripping up the concrete floor to put in new plumbing, putting up a new roof in the back, new electrical wiring, new heating and new air conditioning, which will extend to the diner," he explained (p. 5).
The article suggests that former customers of the Blue Star when it was owned and operated by Fannie and Angelo Blentson, from 1963 until the early 2000s, need not fear any significant changes to the customer area of the diner. To preserve historical accuracy, Lessin said, "Minimal work will be done on the diner portion." The company will simply "reupholster the booths, add more era-appropriate stools (the current ones are not the originals, he said), and rebuff and add new wax coats to the floor" (p. 5). The DP files photo above shows waitress Judy Presley during slack time at the diner in 2002.
If work goes as planned and the diner reopens, it might have an historical marker in its future. The article states Lessin "has been trying to get the diner designated as a national historic place" and Virginia's Department of Historic Resources (VDHR) notified him last September that "the diner is eligible to be nominated to the state landmarks register and the National Register of Historic Places."
In 2015, there was a real possibility that the city might demolish the Blue Star. In a July 27, 2015 DP article, summarized on this CNC website, historian Marc Wagner of VDHR stated he was "very concerned" when he heard that news, because Virginia has "only about 10 surviving diners, and this one is a gem." He added that "the Blue Star is the last remaining classic, factory-made diner in Hampton Roads built before the 1970s" (Theresa Clift, "City Workers Seek Abandoned Homes," p. 5).
The last part of the "RENOVATION" article is a tribute to the original owners of the Blue Star Diner, Angelo and Fotini (Fannie) Blentson, shown in the 1978 DP file photo above. Walter Gardner, owner of nearby Village Bicycles and regular patron of the diner from the 1980s until it closed, fondly recalls the reasonable prices and great food ("Fannie made the best fried chicken"), sentiments echoed by his co-worker Connie Maxwell. John Ottofaro, co-owner of Design and Consign, next door to the diner, states that his customers "ask us all the time when it's gonna open" -- a question Lessin cannot yet answer, because "unforeseen things could pop up."
POSTSCRIPT:
RENIE BLENTSON THANOS, daughter of Blue Star's original owners, Angelo and Fannie, is a CNC alumna (B.A., English, 1990). At CNC she was a member of Sigma Tau Delta, the English Honor Society, and a student of mine. She earned her M.A. in English from James Madison University in 1992 and since 1998 has taught college English. At DeVry University in New York (1998-2015) she served as English Department Chair for 3 years. She and her family now live in Buffalo, NY, where she has been teaching in the Writing Department at Buffalo State College since 2015. Renie visits Newport News as much as possible and keeps up with news of the diner.
_______________________________________________
We welcome your FEEDBACK. Send it to
cncmemories61_71@ yahoo.com
or cnc6171@cox.net.
Published January 6, 2017
NOTE: MORE photos and names are in the website's tab LOOKING FOR (left margin), under the subtab Class of 1967.
Looking for Class of 1967 Sophomores:
Melvin Procter - Paige Traynor
by A. Jane Chambers
The final event during Friday night's Golden Celebration of each 50th Reunion is participating with over 1200 members of CNU's Class of 2017 in a Candlelight Ceremony on the Great Lawn (CNU photo above). The 50th Reunion Class members are honored twice at this ceremony. First, they are seated on the platform in front of the new four-story Newport Hall and welcomed with applause. Second, after a short program, one chosen member of the Reunion Class begins the lighting of the candles on stage. The lighting quickly spreads to the graduates-to-be standing on the lawn below and wearing white shirts and tops. Soon a Sea of Lights is created. The ceremony ends with an impressive (and loud!) explosion of fireworks (see CNU photo at end).
Below are names and photos of 15 more 1966 CNC freshmen, some of whom no doubt completed their sophomore year in 1967. Please help locate these people. We will welcome ALL we find as CNC First Decaders, and CNU will invite those who completed their sophomore year in 1967 (degree or no degree) to attend their 50th Reunion this coming May 12th & 13th.
Shown above are photos from the 1966 Trident (p. 69) of MELVIN PROCTER (L) and ROBERT RICHARDSON (R). There was no photo anywhere in the Trident of KATHY RACKLEY.
All three pictures above are from page 70 of the 1966 Trident. The students are (L - R) JOHN RYAN, CHRISTOPHER SCATTINI, and CAROL SCHULTE. Carol was a SGA Freshman Assemblyman in that year. Maybe others in the Student Government then will know where she is now.
The freshman photo of GEORGE J. SMITH (above L) is from page 70 of the1966 Trident; that of ALLEN SORRELL (M) from page 71. There was no photo of KENNY SPENCER in the yearbook. Allen was on the Men's Track Team that year. I think Kenny was on the Men's Tennis Team. Maybe other male athletes at CNC in the early years know where these men are now.
These 1966 freshmen above are (L - R) RICHARD ST. GERMAIN, BETTY JO SUDDITH, and CALVIN BYRON THOMAS. Richard and Betty's photos are from page 71 of the 1966 Trident; Calvin's photo is from page 72.
These last three photos are all from page 72 of the 1966 Trident. The students are (L - R) GEORGE THOMAS, DAVID TILSON, and PAIGE TRAYNOR.
Having no 1967 yearbook for those who were CNC's sophomores in 1967 has created a serious problem. We hope these photos posted in several issues will help us find some of these former students. If you can help locate anyone, please contact us at cncmemories61_71@yahoo.com (Jane Chambers) or cnc6171@cox.net (Dave Spriggs). THANK YOU!
We welcome your FEEDBACK. Send to

 
cncmemories61_71@yahoo.com 
or 
cnc6171@cox.net.
Published January 6, 2017
NOTE: MORE photos and names are in the website's tab LOOKING FOR (left margin), under the subtab Class of 1967.
Looking for Class of 1967 Sophomores:
John C. Moore - Ted Posey
by A. Jane Chambers
| | |
| --- | --- |
| On Saturday, May 13, before Commencement, members of the Class of 1967 will enjoy a continental breakfast on campus and then be dressed in academic regalia provided by CNU. Each reunion attendee will be given an academic stole to wear, and keep, like the one shown here. One side will have the original CNC seal (CNC - W&M) and the other will have the 50th reunion year (1967). The group will have special seating under a canopy tent near the outdoor stage and will be recognized early in the program. Anyone who needs to leave before commencement ends can easily do so. | Photo by First Decader CNC alumnus Claude Stanley. |
Below are 12 more freshmen shown in the 1966 Trident yearbook, some of whom were no doubt members of the sophomore class of 1967, for which there was no yearbook. Most of these students probably graduated from Peninsula area schools. If you have a lead of any kind, contact me, at cncmemories61_71@yahoo.com, or First Decaders Chair Dave Spriggs, at cnc6171@cox.net. We need your help locating these people! THANK YOU!
Shown above, from page 67 of the 1966 Trident, are (L - R) JOHN W. MOORE, JONI MORRIS, and ROY B. MORRIS. We have no idea whether any of the students with the same last names are related.
The above photos of (L - R) JAMES NULLS, JOHN OLMSTED, and JAMES C. O'NEIL, Jr. are from page 68 of the 1966 Trident. O'NEIL later earned a BS in Business Administration at CNC, in 1973.
These three photos above are also from page 68 of the 1966 Trident. The then-freshmen are (L - R) JAMES EDWARD PARKER, JOHN A. PERKINS, and ROBERT PERKINS. We do not know whether the PERKINS men are related.
Freshman photos above of JOHN PITKINS (L), recently identified as JOHN ATKINS, and CHERYL PORTER (M) are from page 68 of the Trident yearbook. The photo of TED POSEY (R) is from page 69.
High praise goes to CNU's Alumni Relations staff, who do so much at our 50th Reunions to make the honorees and their guests feel like royalty. The above photo, from Commencement 2016, shows Alumni Relations Officer Katie Monteith (first L) and her boss, Baxter Vendrick (last R), Director of the Office of Alumni Relations, horsing around with 1966 alumni Charlie Snead and Ellen Babb Melvin before the program began. As is true of many CNU employees, Katie herself is a CNU alum.
Having no 1967 yearbook for those who were sophomores in 1967 has created a serious problem. We hope these website photos posted in each issue will help us find some of these former students. We will welcome ALL we find as CNC First Decaders, and CNU will invite those who completed their sophomore year in 1967 (degree or no degree) to attend their Golden Anniversary this coming May 12th & 13th.
__________________________________________________
We welcome your FEEDBACK. Send to
cncmemories61_71@yahoo.com
or
cnc6171@cox.net.
Published December 23, 2016
Re: Missing Possible 1967 Class Members
BARRY S. BYRD: FOUND. Connection not yet made, however.
JUDITH ANN COLLINS (BARNES): DECEASED (2015). Information from Jamey D. Bacon of Newport News.
JOHN MICHAEL (MIKE) JOYCE): FOUND. More accurately, reconnected with us via email. No longer living in Thailand, he has returned to the USA and is now living in Florida. He sent his new content information.
JOHN W. MOORE: FOUND, by recognizing himself. He wrote: "John C. Moore is actually John W. Moore. That is a picture of me and I was a sophomore in 1967, but did not get an A.A. until 1968." He is already documented and will, we hope, enjoy his Golden Reunion in 2018.
NAME CORRECTION: The photo labeled JOHN PITKINS is actually a photo of JOHN ATKINS, according to Jamey D. Bacon, who went to school with him.
Published January 6, 2017
Christmas Dinner with
Lovable Louise
By A. Non
As a joke, my brother used to hang a pair of panty hose over his fireplace before Christmas. He said all he wanted was for Santa to fill them. What they say about Santa checking the list twice must be true because every Christmas morning, although Jake's kids' stockings overflowed, his poor pantyhose hung sadly empty.

One year I decided to make his dream come true. I put on sunglasses and a fake beard and went in search of an inflatable love doll. They don't sell those things at Wal-Mart. I had to go to an adult bookstore downtown. If you've never been in an X-rated store, don't go. You'll only confuse yourself. I spent an hour saying things like, "What does this do?" "You're kidding me!" "Who would buy that?" Finally, I made it to the inflatable doll section. I wanted to buy a standard, uncomplicated doll that could also substitute as a passenger in my truck so I could use the car pool lane during rush hour.
Finding what I wanted was difficult. Love dolls come in many different models. The top of the line, according to the side of the box, could do things I'd only seen in a book on animal husbandry. I settled for "Lovable Louise." She was at the bottom of the price scale. To call Louise a "doll" took a huge leap of imagination.
On Christmas Eve, with the help of an old bicycle pump, Louise came to life. My sister-in-law was in on the plan and let me in during the wee morning hours. Long after Santa had come and gone, I filled the dangling pantyhose with Louise's pliant legs and bottom. Then I went home and giggled for a couple of hours.

The next morning Jake called to say that Santa had been to his house and left a present that had made him VERY happy but had left the dog confused. She would bark, start to walk away, then come back and bark some more. We all agreed that Louise should remain in her panty hose so the rest of the family could admire her when they came over for the traditional Christmas dinner.

My grandmother noticed Louise the moment she walked in the door. "What the hell is that?" she asked. Jake quickly said, "It's a doll." "Who would play with something like that?" Granny snapped. I had several candidates in mind, but kept my mouth shut. "Where are her clothes?" Granny continued. "Boy, that turkey sure smells nice, Gran," Jake said, trying to steer her into the dining room. But Granny was relentless. "Why doesn't she have any teeth?" Again, I could have answered, but why would I? It was Christmas and no one wanted to ride in the back of the ambulance saying, "Hang on Granny! Hang on!"

My grandfather, a delightful old man with poor eyesight, sidled up to me and said, "Hey, who's the naked gal by the fireplace?" I told him she was Jake's friend. A few minutes later I noticed Grandpa by the mantel, talking to Louise. Not just talking, but actually flirting. It was then that we realized this might be Grandpa's last Christmas at home.
| | |
| --- | --- |
| The dinner went well. We made the usual small talk about who had died, who was dying, and who should be killed, Then suddenly Louise made a noise that sounded a lot like my father in the bathroom in the morning. Then she lurched from the panty hose, flew around the room twice, and fell in a heap in front of the sofa. The dog howled. I snorted cranberry sauce through my nose, and Grandpa ran across the room, fell to his knees, and began administering mouth to mouth resuscitation. My brother fell back over his chair and wet his pants, and Granny threw down her napkin, and stomped out of the room. | |
It was indeed a Christmas to treasure and remember. Later in my brother's garage, we conducted a thorough examination to decide the cause of Louise's collapse. We discovered that Louise had suffered from a hot ember to the back of her right thigh. Fortunately, thanks to a wonder drug called duct tape, we restored her to perfect health, and she went on to star in several bachelor party movies.
Published December 14, 2014
Re-published December 23, 2016
Published January 6, 2017
Your DECADER committee ALWAYS enjoys feedback on items that appear on this website. The feedback can be positive or negative...doesn't matter. It is just super for us to know that you are actually visiting YOUR website and have something to share.
Please don't hesitate to send us an email with a comment...we LOVE to hear from you!
(There is an underscore between 61 & 71 in the web address above)
Donations
to our Treasury are gratefully accepted.
Make out checks to
CNC First Decaders
. Mail them to
Sonny Short, FD Treasurer,
12738 Daybreak Circle,
Newport News
, VA 23602.
This site is NOT affiliated with Christopher Newport University